Monday, October 25th, 2010
Flyers climb out of hole to advance, St. Henry cruises to three-game victory
Division IV Sectional Volleyball at New Bremen
By Randy Bruns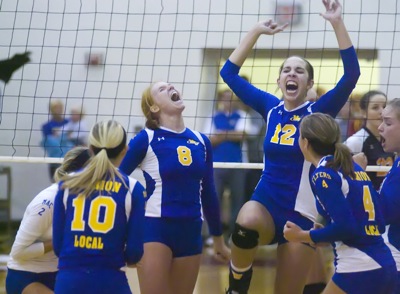 NEW BREMEN - The Division IV sectional volleyball tournament at Cardinal Gymnasium in New Bremen has always been a meat-grinder, with seeded teams often getting knocked off or at least tested to the limits.
This year was no exception, as the state's number-one ranked team had to climb out of a deep hole in order to grind out a tough five-set victory.
The Minster Wildcats had an upset on their minds and had the Marion Local Flyers down two sets to one, but the Flyers roared back to tie it at two-all and then won the finale in thrilling fashion. The Flyers' winning effort came by scores of 20-25, 25-16, 19-25, 25-10, and 15-12.
The second match had a tough act to follow, and it lacked the loud crowd and rousing level of play in the opener. Nevertheless, the St. Henry Redskins emerged with another sectional crown after it defeated the New Knoxville Rangers in three sets by scores of 25-20, 25-15, and 25-21.
Marion and St. Henry now advance to Tuesday's district semifinals at Coldwater. Marion (22-1) will face Wayne Trace in the first match at 6:15 p.m. while St. Henry (18-5) takes on Crestview (20-3) in the nightcap.
Marion Local 3, Minster 2
Just over two weeks ago, the Wildcats posted a big challenge for the Flyers in the first set of their league meeting, but when the Flyers came from behind to take the opener the wind seemed to go out of the sails of the Wildcats.
This time around Minster had the wind at its backs, at least in the early going.
The Wildcats charged out to an early lead in the first set and never let the Flyers get within two points. Every time the Flyers threatened to close the gap, the Wildcats would respond, as they did when Emily Barhorst banged a kill and Delanie Wolf followed with three service winners to give her squad a 22-15 advantage. The Flyers rallied to pull within four but the Wildcats were at game point when Erica Fullenkamp laced a kill to end the set.
The second set was just the opposite, as Marion held its first lead of the afternoon and didn't want to give it up. Marion got a key four-point service run from Alyse Bergman to take a 13-6 advantage, but Minster would later whittle its deficit to four at 19-15. A pair of Winners (Alyssa and Josie) then smacked winners, and the Flyers coasted to tie the match at one-set apiece.
The Wildcats started out strong in the third and steadily built its bulge to nine at 18-9. The Flyers countered with a rally that brought them back within five, but it was too little, too late and the Wildcats hung on for the win.
The fourth set was tight early on and Marion held a slim 8-7 advantage before a Minster hitting error gave the serve back to the Flyers. Bergman did more damage from behind the service line, as the senior served up seven straight winners to give her team a comfortable 16-7 lead. Minster tallied only three more points the rest of the way, and Margaret Wuebker finally ended the set with an emphatic block.
The finale was an absolute classic, with seven ties in the opening minutes. A service error on the Wildcats and an ace by Stacey Huber finally gave the Flyers a two-point cushion, and it turned out to be exactly what they needed. Alyssa Winner knocked three kills down the stretch, with the last one going cross court and finding the floor to give the Flyers the match.
"We looked pretty rusty and we didn't really settle down until that fourth set," said Marion coach Amy Steininger. "In the fourth and fifth sets we played Flyers volleyball, but Minster played excellent. That was a typical MAC (Midwest Athletic Conference) match out there, and it's a shame that we have to play each other at sectionals."
Minster coach Ashley Rohrer had rolled the dice at the tournament draw and picked to go against Marion early on, and the gambit looked to have paid off through most of the match.
"We knew it was going to be a challenge when we decided to go in Marion's bracket," said Rohrer. "But we wanted to instill in the girls the confidence that we have in them that they are able to play the top teams and play right with them. I think they proved today that they're right there with the top five or 10 teams (in the state)."
Minster finished its season with a 16-6 record.
St. Henry 3, New Knoxville 0
These two hooked up 10 days earlier in their MAC tilt, and the Rangers threw a scare into the Redskins by snaring the first set before losing the next three.
Though New Knoxville couldn't repeat the feat and went down in straight sets, it certainly wasn't a cake walk for St. Henry, either.
The first set was tied 12 times as neither squad could build a lead of more than two points early on. The Redskins finally broke through and built a four-point advantage after kills by Abby Brunswick and Katie Hoying, but the Rangers roared right back and pulled within one at 21-10 after Nikki Shreve and Jena Braden slammed back-to-back kills. Hoying then took over for the Redskins by smashing consecutive kills, and after an ace by Danielle Uhlenhake a Ranger kill attempt fell short to end the set.
St. Henry got off to a hot start in the second set, as Emily Hess served up five straight winners to stake her team to a 5-0 lead. New Knoxville hung tough, though, and later rallied to pull within one at 12-11 after a quick-set kill by Haley Dillon. Hitting errors quickly spelled doom for the Rangers, however, as four straight gave the Redskins a six-point lead that would never be threatened.
The final set was another close one, as the score was tied at 13-all before the Redskins scored seven of the next eight and looked to wrap things up. Once again, though, the Rangers didn't go down without a fight. A kill by Dillon and four straight service winners by Sara Felty made the score 20-19, and the Rangers still trailed by one as late as 22-21. The Redskins saved the best for last, though, as Kylie Koesters and Hoying smacked kills and Hess ended things with an ace.
St. Henry coach Diana Kramer was happy with the win, but will be looking for more intensity on Tuesday.
"If we want to continue in tournament we need to play a lot better," said Kramer. "We need to show a lot more enthusiasm and it just felt like there was no energy. I think a lot of that had to do with the Minster/Marion match going five games and us sitting around a long time. But that's not an excuse, because it's tournament time and if we lose we're done. I was disappointed in that aspect but we did win a sectional championship so now we get to focus on our next opponent."
New Knoxville coach Jozy King saw her team keep things close but they could never quite get over the hump.
"It was a roller coaster type of game," said King. "Sometimes we would get down five or six points and then we would have to work that much harder. We would get a lead here and there but we've got to learn that once we get that lead we've got to run with it, and we struggled with that today."
New Knoxville bows out of the tournament with a 12-12 overall record.