Wednesday, October 6th, 2010
Bulldogs cruise past Wildcats
By Gary R. Rasberry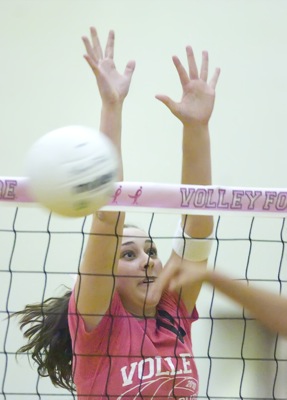 CELINA - The Celina Bulldogs snapped back from a tough loss to Marion Local on Saturday by easily sweeping Kenton in Western Buckeye League volleyball action at the Intermediate School on Tuesday.
The Bulldogs, clad in pink jerseys as part of the Volley for The Cure program for breast cancer research, took the match with scores of 25-8, 25-11 and 25-9 to stay perfect at 6-0 in the WBL and 14-5 overall.
"We think we played well overall on our side of the net," said Celina coach Carolyn Dammeyer. "Kenton definitely is a little better than last year. They're kind of young, but I think we played up-speed game and we hit well and served well tonight."
The Wildcats got out on Celina in the opening set, taking a 5-2 before Celina got the sideout. Erin Dorsten stepped up and put the game firmly in the Bulldogs' control, serving up eight straight points to make it 12-5. Kenton could manage just three more serving opportunities in the set as Celina held them to one serve each time. Morgan Weininger and Dorsten each had four kills.
"We played a little flat-footed," said Dammeyer of the start of the first set. "We got it together and started speeding up the pace a little bit."
Kenton continued to stay competitive into the second set, tying it at 6-6 before Celina was able to build a lead, thanks to solid serving by Angie Fisher, who served six straight points, and Anna Stammen, who served up the final six points with Emily Bihn scoring a kill for the final point.
In the final set, Celina took control with the serve. Fisher served up seven straight points before Kenton could manage the sideout to tally a point to make it 8-1. Celina got the serve back quickly and Stammen served up nine straight, with a pair of aces along the way, to make the score 18-1. The Wildcats managed a few more points, with Brooke Bostelman serving up three straight aces in her final service run, before Bihn got the final kill of the match.
"We needed a game like that after Saturday with Marion Local," said Dammeyer. "We did have a lot of errors (against Marion). I'm proud of them. I thought they all played well tonight."
Weininger had 11 kills and four blocks for the match. Dorsten added 10 kills and five blocks with Lizz Carr scoring eight kills and four blocks. Fisher and Stammen each had four aces with Fisher recording 30 assists. Kierron Koontz had 18 digs.
The two teams raised over $800 for the Susan G. Komen for the Cure
Celina remains at home on Thursday at Elida comes to town for a battle of Bulldogs.