Thursday, November 11th, 2010
Today revives memories of war for Mercer County veteran
By Margie Wuebker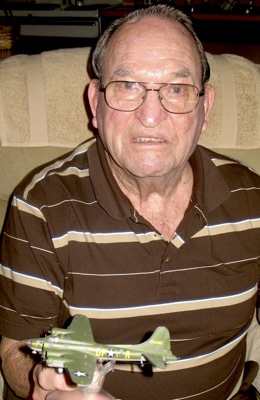 CELINA - Ted Stott sits in an easy chair, remembering a time when waves of B-17s or Flying Fortresses laden with bombs took off from English bases bound for targets in Germany.
Veterans Day always triggers a rush of memories - some good and others not so good. At the age of 85, the Celina man takes advantage of the opportunity to share an important part of history gained through personal experience.
Stott, who resides at 1906 Barnesbury Court, served as a U.S. Air Force flight engineer during World War II. From a designated post behind the pilot and co-pilot, he monitored altitude, speed and other important factors during each mission. Other members of the crew included the navigator, bombadier, radio man, tail gunner and waist gunner.
"We took off in waves from English bases with 13 planes in a group," he said. "It was not unusual for 1,200 to 1,300 planes to be involved in a mission. We flew knowing there were planes above and below us like big birds waiting to swoop down and drop our 6,000- to 8,000-pound payload."
They knew it was only a matter of time until enemy planes zoomed in with guns blazing. Damaged planes from both sides spiraled from the sky, trailing smoke and sometimes flame.
"You held your breath and waited for parachutes to appear on the horizon," Stott said. "A lot of our planes and crews never made it back. Some attempted to fly home on a wing and a prayer, but ended up in the English Channel just short of the runway."
Stott was on his 11th mission when enemy fire downed his plane measuring 74 feet long with a 103-foot wing span. It dropped from the sky and the men methodically bailed out. Stott reached the open door and instinctively grabbed the 6-foot, 4-inch tail gunner who was afraid to jump. The parachute held their combined weight, and they landed safely like the others in a muddy field in southern Germany.
"The Air Force sent in a little single-engine plane to pick us up," he said. "We got out before the Germans overran our position."
The crew did not fare as well on the 22nd mission. Their plane, riddled with enemy fire, went down smack dab in the middle of German-held territory.
"We immediately heard commands in a language we did not understand and felt rifle barrels against our backs," Stott said. "The Germans fired questions at us right and left for all of four days, but we were under orders to give nothing but our name, rank and serial number. They finally gave up believing we knew nothing."
His wife Pat, who remained in Montana with family, remembers the day a telegraph arrived declaring her husband missing in action. She heard a car pull up and looked out the window to see her father getting out of a cab in the middle of the work day.
"I knew then and there something had happened to Ted," she said. "But I knew instinctively that he was OK."
American prisoners were treated better than their Russian counterparts, according to Stott. The long rooms or cells holding approximately 150 prisoners each were dry but crowded. Medical personnel tended the injured and meals consisted of thin soup from large pots.
He recalled one of the German guards, who had relatives in Chicago, sneaking into the cell at night to share news on the world front like the death of President Franklin D. Roosevelt and rumors regarding the end of the war.
After weeks of captivity, the men were ordered out of the cells for a 140-mile march from Frankfort to a larger prison camp at Nuremberg. They marched during the day and camped in farmers' yards at night. Stott, having grown up on a farm, proved adept at catching, killing and plucking chickens.
"All you had to do was grab a couple legs and twist a few necks," he recalled. "We roasted the birds over the fire and dined like kings."
Prisoners once heard airplanes overhead and recognized them as American aircraft. However, the men quickly dove for cover as gunfire strafed the road. One man bravely waved his white "fly boy scarf" to alert pilots they were friendly forces.
Release came several months later when troops under Gen. George Patton marched into camp. Stott returned to civilian life after the war and pursued an engineering degree before taking a job in New Holland, Pa., and later at New Idea in Coldwater.
In September, he and his wife traveled to Lima to watch a B-17 dubbed Sentimental Journey land there as part of a promotional event. Crew members quickly approached after learning about his wartime experiences. He politely turned down the offer of a free ride.
"I flew 22 missions on those birds and I was shot down twice," he said. "That's enough for anybody."

Veterans Day:
Today's observance of Veterans Day is being marked with parades, speeches and even banquets in communities throughout the U.S.
The holiday initially began as Armistice Day on Nov. 11, 1919 - the first anniversary of the end of World War I. Congress passed a resolution in 1926 making it an annual observance. The 11th day of the 11th month became a national holiday in 1938.
President Dwight D. Eisenhower signed legislation in 1954 changing the name to Veterans Day as a means of honoring veterans of all American wars.
Nearly 22 million military veterans are living in the U.S., according to the U.S. Census Bureau. Estimates peg the number of World War II veterans at 2.07 million as of September 2009, with more than 850 dying each day as the majority are in their mid- to late 80s.
-Margie Wuebker