Saturday, November 13th, 2010
Wildcats stun Flyers to move on in playoffs
Division VI Region 24 Semifinals
By Randy Bruns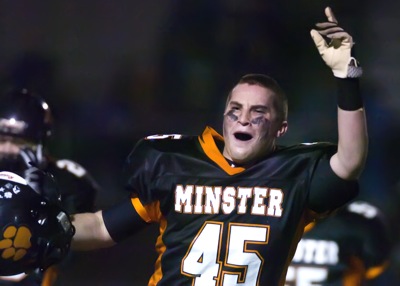 WAPAKONETA - The Minster Wildcats continued a magical late-season run with a stunning 30-26 upset of the Marion Local Flyers Friday night at Harmon Field.
Minster, now 7-5 on the year, will advance to next Friday's Division VI regional final against Lehman Catholic (11-1) at a location to be determined on Sunday. Marion ends its season with a 9-3 ledger.
The Wildcats began the year with four straight losses culminating with a 41-6 thrashing at the hands of the Flyers, but ever since then they've caught fire.
Friday night it was the Flyers that got burned.
Marion was done in by three critical turnovers, including two in the game's final minutes when a comeback seemed to be in the offing. Minster, on the other hand, didn't commit a single turnover and rode the hot hand and feet of senior quarterback Chase Paxson.
The Flyers notched the game's first score on a 15-yard run by Jake Heitkamp, but a fumble on their next drive led directly to a 25-yard field goal by Devon Poeppelman. The Wildcats quickly built on their lead when Adam Kaiser took a draw handoff and sprinted 68 yards to give his team a 10-7 lead.
On its next possession Minster took to the air behind the accurate arm of Paxson. The senior hit on five straight passes to start the drive but in the end yielded to Kaiser, who went the final three yards to give Minster a 17-7 advantage.
The Flyers were down but certainly not out, and they responded with a flurry. Ryan Mescher lofted a perfect pass into the outstretched arms of Lee Pierron, who hauled it in for a 45-yard touchdown. After forcing a quick punt by the Wildcats, the Flyers went back to the air to take the lead. This time Mescher hooked up twice with Greg Schwieterman, including a 15-yarder in the corner of the endzone that made the score 20-17 going into halftime.
Despite losing its lead, Minster kept its composure and turned the game around late in the third quarter. Paxson did most of the damage once again, as he began a string of 10 straight completions that allowed his team to move the ball almost at will. Paxson hooked up with Mitchel Poeppelman on a 10-yard scoring strike to put Minster back ahead, and on the next drive the signal caller found Derek Collins in the end zone for a 32-yard score.
The Flyers were now down 10 with eight minutes left, but their quick-strike offense went swiftly to work. Pierron caught a bullet from Mescher for a 21-yard gain to the Wildcats' 14, and Niles Keller later barged in from six yards out. The point-after attempt was wide left, and the Flyers found themselves down 30-26.
Marion had three final chances to go ahead, but turnovers and a tenacious Minster defense spelled doom. The first shot came with just under five minutes remaining, but Keller coughed it up after a sizeable run and Minster pounced on the pigskin.
A defensive stand forced a punt by the Wildcats and the Flyers looked to be in business after a 28-yard pass to Schwieterman brought the ball to the Wildcats' 34. Two plays later, though, Zach Holsher stepped in front of a Mescher pass for an interception deep in the Wildcats' territory.
With under a minute left Minster opted for a risky punt out of its own end zone and Marion was rewarded with excellent field position at the Minster 24-yard line. The Wildcats' defense was up to the task, however, and after three incompletions by Mescher the quarterback was flushed from the pocket on fourth down and could only manage two yards on the ground.
From there it took just one snap from the victory formation to send the Minster crowd into hysterics.
"Our kids out there just had hearts of steel," gushed Minster coach Nate Moore. "They pulled together and played as a team. Our senior class is just an amazing group of guys. Four weeks into the season they could've packed it in but they believed in what we were doing and they believed in each other. They're the reason why we're where we are today."
Marion coach Tim Goodwin lamented his team's costly miscues but also credited the Wildcats for forcing the issue.
"We had a few turnovers and they didn't have any, and they executed," said Goodwin. "Their quarterback made plays and we didn't respond like I thought maybe we could have. They did a nice job against our run, that was the bottom line. They jammed everybody up there and we hit some passes, but I guess not enough. My hat's off to (Minster), because they executed like crazy out there."