Monday, November 15th, 2010
Trash fire spreads to house
Celina area home destroyed in blaze
By Margie Wuebker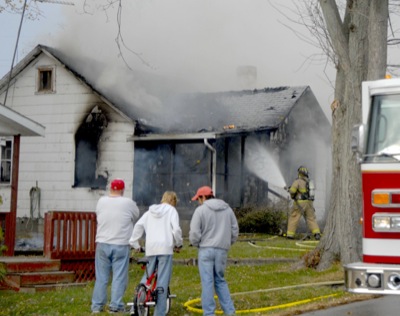 CELINA - An ember from a small trash fire apparently sparked a blaze that destroyed a Jefferson Township cottage Saturday afternoon.
The summer cottage, located at 121 Beech Ave. south of state Route 703, was fully engulfed when Celina Fire Department personnel arrived on the scene shortly after 2 p.m.
"The place was pretty well gone," fire chief Doug Wolters told The Daily Standard this morning. "We were able to contain the fire, but cottages to the north and south sustained damage - mainly melted siding - from the heat."
A caretaker for property owner Dorothy Nohr of Morgantown, Ind., was reportedly burning a bush and leaves near the structure. He walked away briefly at one point after the fire burned down. Wolters believes the wind likely blew the ember onto a windowsill and "the fire quickly took off."
The 10 firefighters and two fire trucks remained on the scene approximately 21/2 hours.
No dollar loss has been set, but the owner reportedly has insurance coverage.
Wolters said open burning of certain items such as weeds and leaves are permitted in the unincorporated area east of Celina with prior approval of the Environmental Protection Agency. However, most people such as the unidentified caretaker bypass that step, he said. The fire chief said no charges will be filed in connection with the blaze.