Tuesday, November 23rd, 2010
Holiday sales: Early bird deals please shoppers, stores
By Shelley Grieshop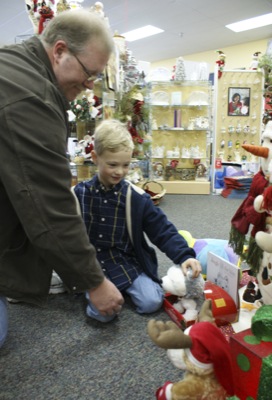 Local retailers may have good reason to be jolly this holiday season.
Shoppers appear to be hitting the stores earlier than last year and are more willing to part with their cash, according to area businesses.
"Sales were great this weekend and we were very busy. We're real happy, so far," said Paula Fledderjohann, manager of Readmore's Hallmark store in St. Marys.
As customers strolled in and out on Monday, Fledderjohann said she hopes the trend doesn't fizzle out.
"We're always hopeful," she added.
To jumpstart holiday sales, some retailers across the country began selling items at "Black Friday" prices more than a week ago. Online specials - many offering no shipping charges - also lured customers into Santa Claus mode before the traditional shop-till-you-drop event this Friday.
Ohio shoppers are expected to spend 2.55 percent more in November and December than last year, according to a survey released Monday by the University of Cincinnati's Economics Center. The prediction is based on several factors, including a decrease in unemployment and stronger consumer confidence.
"This means that 2010 is likely to be the best year for retailers since 2007," the survey stated.
Sales tax revenue in Mercer County this month is up 9.58 percent compared to November 2009. Overall spending this year is up 4.63 percent over 2009.
Auglaize County numbers aren't too shabby either. Auditor Janet Schuler said sales tax figures are up 11.65 percent for the month and 2.96 percent for the year.
Good turn-outs were reported at holiday open houses this past weekend in several local communities.
"I thought the crowds were up a little, but I think a lot had to do with the nice weather," said Theresa Jutte, owner of Roger's Flowers & Gifts in Coldwater.
Jutte said sales were good but not all customers were buying.
"I think a lot of people were just looking, getting ideas for Christmas," she said.
Krystal Krieg, group manager at Alco in New Bremen, believes area residents finally have more confidence in the economy.
"I really think people are tired of sitting on their money," she said.
But she also noted that customers are searching harder for bargains.
"They're thinking hard about the economy right now and are going after the better deals," Krieg said.
Walmart Supercenter manager Chris Carroll said the Celina store is bracing for an influx of 6,000 Black Friday customers seeking bargains at midnight Thursday and early Friday. He, too, believes sales this Christmas season will be merry for retailers.
"We expect to meet or beat last year's sales," he said. "And we're ready."

Hottest toys this season:
For children:
• Zhu Zhu Pets - innovative and interactive collectible toy animals.
• Squinkies - soft and squishy collectible figures such as people, cats and dogs.
• Mattel Sing-A-Ma-Jigs - colorful characters that chatter, sing a song and harmonize with each other.
• Paper Jamz guitars - super-thin, stringless guitars with built-in music that is played by touching the surface.
• Disney Princess and Me dolls - 18-inch dolls with faces of girls in their tweens.
• LeapFrog Leapster Explorer - handheld, educational learning devices.

For families:
• Kinect - used with Xbox 360, the technology allows players to participate in music, games and other types of entertainment by voice and motion instead of handheld controllers.
• Kindle wireless reading device - a handheld, electronic device used to download and read books.
Continuing as best-selling gifts are video game consoles such as the Wii and Xbox, digital cameras, flat-screen televisions, cell phones with wireless Internet and the Apple iPad.
Gift cards also rank at the top of the list.
- The information was compiled from several online retail stores, as well as www.gifts.com.