Friday, November 26th, 2010
Dannon to expand
$110 million investment may add about 100 jobs
By Margie Wuebker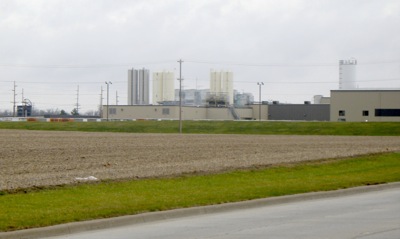 MINSTER - The Dannon Company is considering a $110 million investment at its local plant that would expand its facility and workforce by nearly 100.
Michael Neuwirth, the company's senior director of public relations, confirmed Wednesday that Dannon is "very close" to purchasing 23 acres immediately east of the company's plant off First Street from Minster resident Audrey Meyer.
A growing demand for yogurt is resulting in a need for more production and cooler space at the plant.
"We need more room and we were looking for the best place," he added. "Dannon wants to expand and grow the economy here in Minster. We have a long-term relationship with the community dating back more than 40 years."
Neuwirth indicated the first hurdle was cleared earlier this month when the Jackson Township Zoning Board of Appeals granted a conditional use permit to change the zoning from residential to industrial. Company officials at the meeting indicated plans call for the addition of at least four production lines, as well as the construction of a separate building to house all distribution functions, according to Jackson Township Clerk Dave Doenges.
Doenges said plans call for Dannon to return distribution activities to Minster from the Dayton-area site. Construction would likely start following the eight- to 10-month annexation process.
Minster village administrator Don Harrod plans to discuss annexation at the Dec. 7 village council meeting. Ultimate approval rests with the Auglaize County Commissioners.
Neuwirth told The Daily Standard no decision has been made regarding the scope of the expansion. He believes the current 400-member workforce will grow by approximately 100 in the next several years.
The Minster location produces 1 million cups of yogurt per day. Dannon also has plants in Utah and Texas.
Neuwirth said the company has no plans to put an entrance and exit drive to the new property off First Street. All traffic will continue to use Southgate Drive off state Route 66.
The new project is part of a steady stream of improvements at the facility.
"There is always something happening at Dannon," Neuwirth said.
The company installed a state-of-the-art wastewater treatment facility in recent years, added more efficient heating, cooling and ventilation equipment and upgraded the office. Boilers and other equipment were moved to a new utilities building to free up space for refrigerated cooler expansion.
"We're very excited about our newest commitment here in Minster," Neuwirth said. "And we plan to proceed in an orderly fashion that meets everyone's expectations."