Monday, November 29th, 2010
Cavs to play for D-V state title
Coldwater gets rematch against Youngstown Ursuline
By Gary R. Rasberry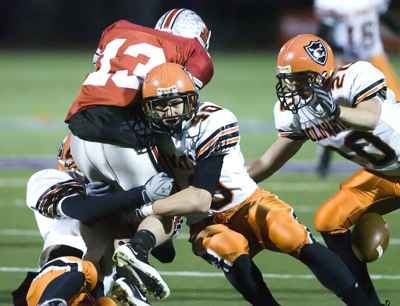 COLUMBUS - There was just no way Coldwater was going to be denied.
Three first-half touchdowns were more than the Cavaliers needed to punch their ticket to the state championship game in Canton as Coldwater knocked off previously undefeated Fredericktown 26-6 in the Division V state semifinals at Alumni Stadium at DeSales High School.
The Cavaliers (11-3) head to Fawcett Stadium next Saturday for a rematch from last year's state title game against defending champion Youngstown Ursuline. The 14-0 Irish dispatched Lima Central Catholic at Ashland 51-36 in the other state semifinal.
"We came here to win. We felt we had a good opportunity to win," said Cavaliers coach Chip Otten, in his first season as a head coach after serving as an assistant coach for the last 10 years at Coldwater. "You think about it (going to state) as you keep moving forward."
"Late in the fourth quarter, I looked over at some of the seniors and it was, like, 'Guys, I think this is for real: we're going!' They all started looking at me and started laughing," said senior running back/linebacker Aaron Rammel. "It's the greatest feeling I've probably ever had in my life. Going back for the third time in four years is a great feeling."
Defense was the key of the night as Coldwater worked to shut down the potent Freddies' running game that featured 2,000-yard back Matt Smith. The best example came on the first seven carries for Smith, during which the Cavaliers limited him to just 10 yards, with a trio of carries for no gain. Smith finished with 59 yards on 18 carries.
"I thought we did a great job tonight," said Rammel. "Our defense was fast tonight. It was relentless. A lot of big hits. We played well."
Freddies coach Brian Baum was complimentary of the Cavaliers' defense.
"We knew how quick they were," said Baum of the Cavalier defense. "(Jordan Chapin) is a little guy, but you know he's out there making plays, him and 3 (Rammel). We know 3 is a good ballplayer.
"They did a good job with delayed blitzes, coming through there and blowing things up."
Coldwater scored on its first series as Ethan Bettinger passed the ball to Reese Klenke, who burned his coverage and tallied a 60-yard touchdown. Klenke and Bettinger hooked up again later in the first quarter on a two-yard strike that made it 13-0 after one quarter of action.
The Freddies were able to get some stops on the potent Cavalier offense, but Coldwater went to some familiar plays in the back of the book. On a second-and-12 play in the second quarter, Bettinger threw a backward pass to Drew Klosterman, who found time and fired deep to an open Kurt Schoenherr for a 52-yard scoring strike. Bettinger ran in a fake PAT for two points and a 21-0 halftime lead for the Cavs.
"We threw a few trick plays out there because we felt that's how we could score," said Otten. "Probably we could have been a little more efficient on offense, but the effort was incredible."
While Fredericktown was able to start moving the ball more frequently in the second half, Coldwater still kept the Freddies out of the end zone until the final two minutes of the game.
The Cavaliers got five late points to cap a strong performances. The first two points came when Klenke executed a safety blitz and sacked Ryan Logan in the end zone.
"It was a good momentum swing," said Klenke of the safety. "We got the crowd into it. Everyone was all jacked up. We just kept rolling from there."
After the free kick, Troy Otten booted a 36-yard field goal that made it 26-0.
The Cavaliers outgained the Freddies 81-66 on the ground and 255-217 overall. Klenke, a likely first-team All-Ohio selection when announced later this week, had eight catches for 118 yards and two scores.