Saturday, November 6th, 2010
Minster opens postseason with win
Wildcats victorious in playoff game for first time since 1996
By Gary R. Rasberry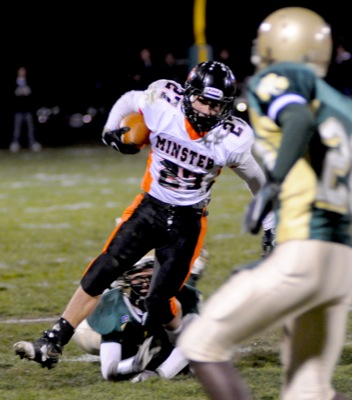 SPRINGFIELD - A wild play midway through the third quarter turned a close battle into a blowout.
And now, Minster fans can party like it's 1996.
An intentional grounding in the end zone began a run of 23 straight points for the Wildcats as Minster defeated Springfield Catholic Central 44-21 in the first round of the Division VI playoffs on Friday night at Hallinean Field.
Minster (6-5), getting its first playoff win since the 1996 postseason, will now face Midwest Athletic Conference rival Marion Local next Friday at a site to be announced on Sunday. The Irish, winners of the Ohio Heritage Conference and the top seed in Region 24, ends the season at 9-2, with both losses coming at the hands of MAC teams.
"It's a great experience for the kids. I couldn't be happier for them right now," said Minster first-year coach Nate Moore. "They're playing really good football (winning six of their last seven games after starting out 0-4). We're getting better as a team because we're becoming more of a team. That's what good groups of kids do. They're becoming closer as teammates, better friends, better people by being part of the program. It's a great time to be a Minster Wildcat right now."
The Irish had tied the game at 21-all with 7:32 left in the third quarter when Jake Aldridge snagged a 32-yard scoring pass from Brian Kelly. SCC got the ball back with 4:59 left in the quarter on their own 16 and promptly lost a yard when Mitchell Grimone was tackled behind the line of scrimmage.
On second-and-11, Kelly rolled out to pass, but the Minster defense came charging and chased Kelly into the end zone. With Wildcats roaring in, Kelly threw the ball out of bounds, and far away from any Irish receiver. Coach Moore and the Minster faithful screamed for a flag. A moment later, the flag was thrown for intentional grounding in the end zone, resulting in a safety that put Minster up 23-21 with 4:13 to go in the quarter.
"We had a plan when (Kelly) would roll out," said Moore. "... We had guys assigned to get in his face, to attack his high shoulder when he was sprinting and we had a guy assigned to get on his back shoulder, too. When he pulled that thing up and turned around, we had a guy in his face. He got flustered and threw it up, and there was nobody there.
"That was huge. It was 21-21 at the time. ... (SCC) was looking good coming out in the second half. That was the turning point of the game. We got the two points and the ball back."
SCC free-kicked the ball to Minster, which started from its own 46. With a healthy dose of tailback Adam Kaiser, the Wildcats chewed up the final 4:13 of the third quarter and 11 seconds of the fourth quarter with an 11-play drive. Kaiser, with two touchdowns already, got the final carry for a one-yard score to make it 30-21.
The rout was on as Kelly was picked off on his next possession by Devon Poeppelman. Minster chewed up another three minutes of clock and got six more points as Chase Paxson took a quarterback keeper and chugged in from 16 yards out to make it 37-21.
Paxson delivered the final nail to the coffin, picking off Kelly on the second play of the ensuing drive, taking the pass back 54 yards for the score.
"Throughout the year, we've had opportunities to put some teams away that we didn't capitalize on. A couple times we did it well," said Moore. "Without a doubt, I thought we had our best closing of any game this year (by) far. ... It's always fun to end a game putting a knee on the (ground)."
Minster's line play dominated, holding SCC to just 36 yards rushing while the Wildcat offense averaged nearly six yards per game in rushing for 299 yards. Kaiser led the way with 143 yards on 20 carries.
"(SCC) had a big physical line that we thought was pretty good going into the ballgame," said Moore. "I thought our defensive line really stepped up and for a lot of the game, we were able to play our base package, because our defensive line was able to get off blocks.
"As far as our offensive line, I think they've been one of the strengths of the football team probably from week four, five on."
The only thing the Irish had going on offense was Kelly's arm. Kelly was 10-of-21 for 251 yards and three touchdowns. Dimitrious Dimitroff had three catches for 141 yards and two touchdowns, one a 70-yard score for the opening touchdown in the first quarter, while Aldridge had five snags for 115 yards.
"They just got a couple broken-play long passes on us," said Moore. "That's a very good quarterback and that's what they've done all year. Same thing we saw on film. We knew he would try it. I was hoping we'd do a better job, when we had plays like that. That's a good football team over there."