Thursday, December 9th, 2010
New dog ready to serve county
By Margie Wuebker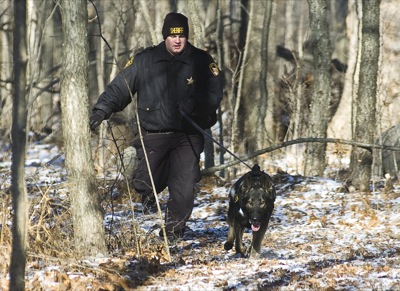 The newest deputy at the Mercer County Sheriff's Office saunters down the hall with ears perked and eyes pealed in the event of some miscue or - better yet - a treat.
Zak, a 2-year-old German Shepherd who hails from the Czech Republic, joined the sheriff's office staff Oct. 18. He replaces Bleck, the former K9 unit who died in August from complications of an intestinal disorder.
Zak, who will be handled by Deputy Chad Fortkamp, was purchased through donations from two fraternal organizations.
"We have made budget cuts like other county departments," Sheriff Jeff Grey told The Daily Standard. "There were no dollars whatsoever to replace Bleck, and county residents who called offering donations had no idea what a trained dog costs."
Grey sent letters to organizations that have helped the sheriff's office in the past and the Fraternal Order of Eagles and the Loyal Order of the Moose provided a total of $10,000 for the dog. They also support a fund covering the cost of on-going training, veterinarian bills and food.
"The Eagles are hometown builders. We support our police, firefighters and others who protect and serve," Eagles president Mike Goodspeed said. "We are not just a bar or a club, we are people helping people."
Moose representative Jim Monroe said members and officers believe the presence of a trained K9 unit goes a long way toward protecting residents and law enforcement officers.
Zak, like his predecessor, came from Al Gill of Von Der Haus Gill Canine Academy near Waynesfield and was certified on Nov. 12.
Zak "speaks" German, responding immediately to words like "nein" (no), "sitzen" (sit) and "plotz" (lie down). He listens only to the commands of Fortkamp, screening out similar words spoken by other voices.
In addition to taking part in regular patrol work, locating drugs and tracking wanted persons, the K9 team will be available to assist other agencies in the county and beyond, check for contraband in the jail and make appearances at area schools and various community events.
The deputy has grown accustomed to having a partner again. However, he continuously reminds himself Zak is a crime-fighting tool and that his own safety could very well rest on the dog's performance. The dog will live at Fortkamp's home.
The team has responded to a traffic stop, an armed robbery at the Motor Inn Truck Stop and reports of an escapee hiding at a relative's house in recent weeks.
"Zak represents a considerable investment," Grey said. "But if he locates just one missing child, finds someone's missing parent or saves the life of a law enforcement officer, it will be money well spent."