Monday, December 13th, 2010
Road crews busy
Region records 4.2 inches of snow
By Shelley Grieshop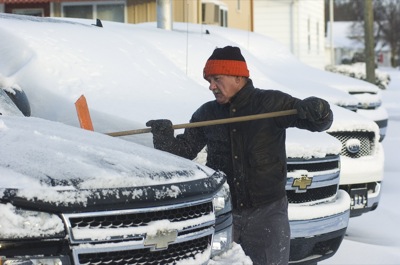 Many snowblowers made their debut this weekend as the Grand Lake area was hit with more than four inches of snow.
The heavy, wet snow - accompanied by high winds and bitter cold - closed several area schools today and delayed classes at others because of the hazardous road conditions. As the sun peeked through at mid-morning, the wind remained an issue for road crews.
"We keep plowing it and the wind keeps blowing it back on the road," said Ron Leffel, transportation manager for the Ohio Department of Transportation in Auglaize County.
Leffel said his crews will continue 12-hour shifts indefinitely as they attempt to keep all state highways clear.
Mercer County Sheriff Jeff Grey on Sunday night issued a Level 1 snow alert warning motorists to use extreme caution on unincorporated state routes and county and township roads. The alert was canceled at 10 a.m. today.
Scattered flurries are expected to continue locally through Friday. High temperatures today and Tuesday will be about 20 with overnight wind chills of minus 2 degrees.
Other areas of Ohio were slammed with much more snow in recent days. Reports of more than 2 feet of snow were common in the northern and eastern portions of the state. And it's not over for them yet. The National Weather Service said parts of northeast Ohio could receive 2 feet or more of additional snow by Tuesday night.
Brad Laffin, road superintendent for Mercer County, said 12 snowplows were on the road by 4:30 a.m. today and will battle the elements until the job is done.
"There's a lot of blowing and drifting right now," he said this morning.
Layers of ice from the rain that fell on Saturday are mixed with packed snow. It's a nasty combination, Laffin said.
"It's very slick and it's supposed to blow most of the day. It's really going to hamper our efforts," he added.
On Sunday, the north and south roads were the worst. But as the wind direction changed overnight, every road became a problem, he said.
Law enforcement agencies in Mercer and Auglaize counties reported numerous vehicle slide-offs during the last 48 hours but no serious accidents as of this morning.
Sgt. Tom Brookhart of the Ohio State Highway Patrol post in Wapakoneta said the snowstorm's timing helped minimize crashes.
"A lot of it hit on Sunday when people really didn't have to leave home," he said.