Tuesday, December 14th, 2010
Grand Lake park manager warns of ice safety
By Amy Kronenberger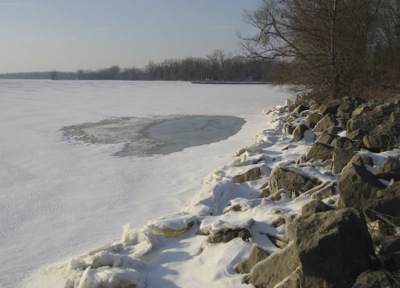 As winter sets in and Grand Lake freezes over, many winter sports enthusiasts are looking to hit the ice.
Brian Miller, interim manager at Grand Lake St. Marys State Park, warned to proceed with caution before treading on the lake. Even if the lake looks frozen, the ice may not be thick enough to safely carry the weight of even a small child or dog.
"Last week, for example, the lake looked frozen; but the ice definitely wasn't thick enough," Miller said. "Then Saturday, when we got all that rain, it softened the ice; and the snow on top of that provided insulation. So now it'll be tough to get some good ice."
Miller said to always check with local resort or bait shop owners to find out what they've heard about thin ice areas. Then test the thickness of the ice using an ice chisel, auger or possibly a cordless quarter-inch drill with a long bit.
If the ice is two inches or less, stay off, according to guidelines from the Ohio Division of Watercraft. Four inches of new clear ice is the minimum thickness for foot travel, five inches for ATVs or snowmobiles, 8-12 inches for a car or small pickup truck and 12-15 inches for a medium pickup.
Miller warned that a sudden warm-up and rainfall can soften the ice quickly and cause it to be unsafe.
There were no incidents of people falling through the ice on Grand Lake last winter and none so far this year, Miller said. However, park officers are planning an ice rescue training class for themselves and area fire departments to take place after the first of the year. The class would be a refresher course to make sure rescue workers are ready in the event of an emergency.
If someone does fall through the ice, the Ohio Division of Watercraft advises the following:
Immediately call 911. Even if the victim is pulled to safety and seems fine, a fatal condition called "after drop" could occur. After drop takes place when blood that was pooled in the extremities starts to circulate again as the victim starts to re-warm.
After calling 911, stay calm and do not run up to the hole. Instead, use an item on shore to throw or extend to the victim, such as jumper cables or skis.
If a person is alone when he or she falls into the water, it is important not to panic. Place hands and arms on unbroken surface of ice (or insert ice picks). Work forward by kicking legs.
Once back onto the ice, do not stand up. Instead, roll away from the hole. This evenly distributes body weight until back on solid ice.
The best precaution to take, Miller said, is to remember no ice is 100 percent safe.
"Don't put yourself into needless danger by venturing out too soon or too late in the season," he said. "No angler, no matter how much of a fishing enthusiast, would want to die for a crappie."

Ice safety tips:
Whether skating, snowmobiling or ice fishing on Grand Lake, the Ohio Division of Watercraft offers the following safety tips:
• Do not drive personal vehicles on the lake. Non-emergency cars and trucks are not allowed on the lake.
• Properly registered snowmobiles and all-terrain vehicles must exercise extreme caution and not "overdrive" the headlight. It takes a much longer distance to stop on ice than the headlight shines.
• Maintain constant parental supervision. The park urges parents to supervise their kids at all times if they will be on or near the lake.
• Wear a life vest under winter gear and carry a pair of ice picks. If someone falls through the ice, it can be difficult to climb out. The ice picks offer traction for that person to pull himself or herself out.
• Do not drink alcoholic beverages. Even just a couple of beers can cause a careless error in judgment. And contrary to common belief, alcohol does not warm the body; it cools the body.
- Amy Kronenberger