Saturday, December 18th, 2010
Indians make late run to slide past Panthers
By Gary R. Rasberry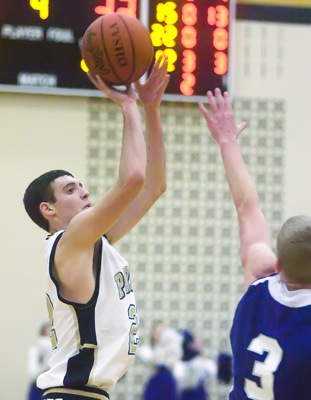 ROCKFORD - With just over three minutes left to go in the Midwest Athletic Conference opener for Parkway and Fort Recovery, the Panthers seemed to be in a pretty good spot.
Parkway was up 46-40 on Fort Recovery and trying to slow the pace of the game, while the Indians had a different plan.
The Indians outscored the Panthers 14-1 down the stretch to maintain an unblemished record with a 54-47 win at Panther Gymnasium on Friday night.
Fort Recovery (6-0, 1-0 MAC), which started the night down 7-0 and found itself behind 11-3 at one moment in the first quarter, found a way to rally for the win.
"(Parkway) came out and had the start they wanted and we had the start that we didn't want," said Indians coach Brian Patch, who picked up his 99th win as head coach. "... So for them, that was a good start, and for us, that's not how you want to be with a young team on the road in a conference game.
"But to our kids' credit, they're very resilient. They battled and never gave up."
The Panthers (1-3, 0-1 MAC), went up 46-40 with 3:06 to go in the game after a pair of Riley Bransteter free throws.
With two minutes left, Fort Recovery's Elijah Kahlig, who entered the game averaging double digits but was 0-for-7 to that point in the game, hit a three from the top of the key to cut Parkway's lead to 46-43.
After a Parkway missed shot, Fort Recovery's Wade Gelhaus got the ball in the paint and scored with 1:41 left to make it a one-point game at 46-45.
Bransteter went to the line for two free throws and made one to make it 47-45, but 10 seconds later, Fort Recovery's Jared Kahlig got a bunny to fall tying the game for the first time since late in the third quarter.
"We had them right where we wanted them," said Parkway coach Doug Hughes. "With about two minutes to go we were up 46-40. They came out and made plays. It was like we were down six instead of up six."
On Parkway's next possession, Trevor Wuebker was blocked by Gelhaus, one of eight rejections by the sophomore on the night. Gelhaus was then fouled and went to the free-throw line, making the first but missing the second. Fort Recovery, however, not only got the offensive rebound, but got several chances to get a stickback before Gelhaus was fouled with 43.8 seconds left on the clock.
This time, Gelhaus hit both freebies to push the Indians' lead to 50-47.
"A lot of it was the way you could tell Wade Gelhaus was coming out and looking for the ball to score," said Patch of the comeback. "When he starts doing that, it's going to make him better and the team better; make the guys around us better."
Parkway's Corey Decker, who had lit up Fort Recovery for most of the game, missed a three, but the Panthers got the rebound. After a timeout, Parkway's Chris Brazle tried a three, but Fort Recovery's Ryan Schoen got the rebound and was fouled, making both free throws to push the Indians' lead to five points.
Decker tried another three with the clock under 10 seconds, but Jared Kahlig got the rebound and hit both free throws to ice the game.
"They did some things defensively and we missed some shots," said Hughes of Fort Recovery. "They made some plays when the game was on the line."
"Coming back, not just in regular-season games but coming back in a MAC game is different," said Patch. "They know us better, we know them better."
Gelhaus had a monster night for the Indians scoring 21 points and pulling down 13 rebounds. Schoen added 11 with Jared Kahlig contributing nine.
Decker finished with 21 points and hit 5-of-12 three-pointers. Brazle added 15 points for the Panthers.
Fort Recovery is off until Tuesday when it tries to get Patch his 100th career win with a road trip to Waynesfield-Goshen. Parkway will look to bounce back tonight when it hosts Crestview. The game time against the Knights has been moved up to a 6 p.m. start.