Wednesday, December 22nd, 2010
Bulldogs make their move in third quarter
By Gary R. Rasberry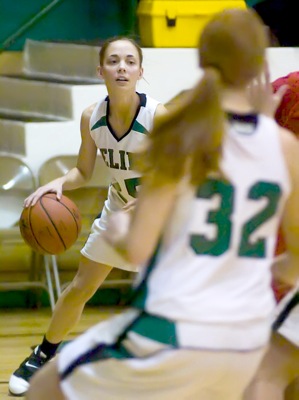 CELINA - A 10-0 run in the third quarter gave Celina enough of a cushion to hold off a determined St. Henry squad 53-42 in a Mercer County girls basketball contest at the Fieldhouse.
The win is the fifth in a row for Celina (5-1) while St. Henry drops to 2-6 with the loss.
Celina's 10-0 run in the third quarter pushed the Bulldogs' lead from 26-23 to 36-23 in a span of 4 1/2 minutes.
"The third quarter, we came out and established some pressure there," said Celina coach Brian Stetler. "That was basically the difference in the game (with) the 10-0 run. Other than that, it was pretty much back and forth."
"We had four turnovers in a six-possession stretch that gave them space," said St. Henry coach Jeff Roessner. "Once (Celina) had space, then our zone wasn't as effective. They made some big shots against the zone, even in the second quarter."
It was 14-12 in favor of the Redskins after the first quarter as the Bulldogs struggled with turnovers, seven in the opening stanza. Celina stayed close and tied the game twice before getting a 21-20 lead with 57 seconds left in the half on a Hillary Heiby bucket.
After St. Henry tied it back up, Amanda Hoying hit a pair of free throws to make it 23-21, and then closed out the half with a three-pointer at the buzzer to make it 26-21 in favor of the Bulldogs.
After the third-quarter run pushed Celina's lead to 13 points, St. Henry got as close as six points after Kylie Koesters and Ashley Heitkamp hit some key baskets.
Celina's Danielle Bihn hit back-to-back shots midway through the fourth quarter to push the Bulldogs' lead back above double digits.
"They got after us a little bit," said Stetler of the St. Henry defense, which forced 24 Bulldog turnovers. "We need to be able to handle that better. We'll get better. I have confidence.
"I think that was the difference tonight, that little stretch in the third quarter. I thought our girls adjusted and played hard during that stretch."
"We got it down to four and had our chance; but once again a couple turnovers in a row," said Roessner, whose squad committed 20 turnovers on the night. "Then it's back to eight or 10.
"I was real pleased how they went to the (basket) on turnovers. We hadn't been finishing this strong as we did tonight. We saw some things we can build on."
Lizz Carr scored 13 points (seven rebounds) to lead a balanced Celina offense that had 11 players get at least a point. Hoying added 10 points.
Heitkamp led St. Henry with a game-high 18 points while Koesters added 15.
Celina wraps up the 2010 portion of the schedule with a trip to Coldwater next Tuesday. St. Henry will host St. Marys on Dec. 30.