Thursday, December 23rd, 2010
Marion Local duo receive national volleyball honors
By Gary R. Rasberry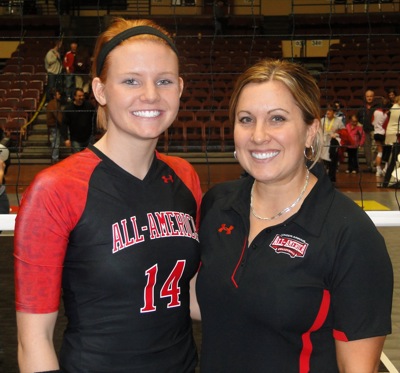 Marion Local's volleyball coach Amy Steininger was getting a little emotional when she found out that the American Volleyball Coaches Association named Flyers' all-around star Alyssa Winner as a first-team All-American and invited her to play in the Under Armour All-American Match.
Then Steininger got more emotional news that she would get a chance to join Winner and coach her in the game, held last Saturday in Kansas City, which was also the site of the NCAA Division I women's national volleyball Final Four.
Steininger was named National Co-Coach of the Year by the AVCA, after leading the Flyers to three state championships in four years.
Area volleyball fans will have a chance to see the two of them on television as ESPNU will air the match on Monday at 8:30 p.m.
"It was just a thrill to find out I was going to be coaching her, for one," said Steininger, who coached Winner for Team Swagger in the match. "That made it even more special to coach her in that special atmosphere with those great elite-level players across the nation. I was just happy for Alyssa, and the fact that I got to coach her one last time. It was really special to be there at the same time."
When Steininger got the call about Winner, who will attend Ohio State next season and play for the Buckeyes, she was obivously happy.
"The (AVCA) called me and said 'We have good news for you,'" said Steininger about finding out about Winner. "I was just thrilled and getting emotional for her because it's such an honor to be one of 24 in the nation to be named to this game. Then they said 'We have even more great news for you.' ... I was just floored (being named a Coach of the Year). I felt so thankful and lucky. You don't get these coaches' awards without great players."
Winner noticed something was up when she got home from school that day.
"My mom had a big smile on her face," said Winner. "She said I had to call coach Steininger. "Mom dialed the number for me and I got on the phone and (Steininger) told me I was an All-American and, of course, I was real excited. Then she told me I get to go to the NCAA (tournament), which made me more excited. ... Then she went on about everything we'd do there and told me she was going to be coaching me, which was awesome."
Winner was happy to have her coach the past four years joining her for her final high school match.
"It was just an awesome experience," said Winner. "Going through my whole high school (career) with her, this will be the last time she'll get to coach me. I thought our last game of tournament (the regional final against Lehman) was going to be our last match. It's great for her to coach me for another game.
"I was the only player to have my coach with me. It was awesome."
The pair traveled to Kansas City during the middle of last week for the event, which included a full schedule.
"We had a full slate," said Steininger. "... Thursday, there was a coaches' luncheon and me and the other Coach of the Year (Bill Morrin of Grantsburg, Wis.) had to give a speech in this huge ballroom in front of all the college coaches across the nation. That was pretty nerve-racking, but an experience I'll never forget. I got to meet some of the best college coaches in the nation and get my picture with them."
The players got a chance to take part in skill events, where Winner won the Best Defender competition. Winner also got the chance to meet Olympic beach volleyball gold medalist Kerri Walsh.
"We had a practice on Friday, which was the first time we all played together," said Winner. "It was just so much fun playing with all of them because I have never seen that level of volleyball put together. It was just a lot of fun for me to be challenged with that. All these girls are going to big-time colleges. I'm sure I'll be seeing them around."
After the All-Star match, the players went to the NCAA championship match, an event that left Winner in awe.
"It was just cool going from our match, then all of us going to watch the best girls in the country (at the NCAA final)," said Winner. "It's just real neat thinking that some of the girls I played with could be there, or who knows, we'll be there next year."
Steininger was happy to have had the experience.
"It was just a full three days for us," said Steininger. "Just a wonderful experience."