Friday, December 24th, 2010
Five and dime memories priceless
Christmases of yore always included a trip to Barr's
By Betty Lawrence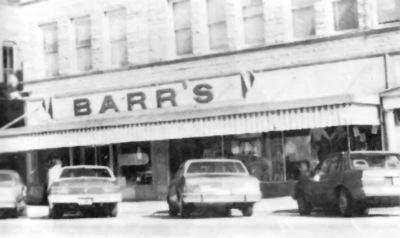 CELINA - For 80 years, downtown Celina was home to a "five and dime" store where many families did their Christmas shopping each year.
The former Barr Co. 5 ¢ to $1 Store, which opened in 1914, couldn't survive the onslaught of retail giants and closed in 1994.
But many residents still recall the aroma of chocolate that filled the air as customer's entered Barr's front door. The candy counter, which stood front center, was filled with assorted fresh bulk candies. Customers could purchase a few ounces or pounds, and the sales clerk would simply mark the price on a white paper bag.
"We had essentially three floors, the large ground floor, a basement and an upper mezzanine that was filled with curtains, lamps, stuff like that," recalled Ed Kuenning, of Celina, who managed the store from 1952 until its closure.
Toys and children's items were in the basement area, and the main floor (approximately 10,000 square feet) had everything for sale from parakeets and hats to jewelry and notions. There were 31 separate departments in that store, he said, and Christmas time was the busiest time of the year.
Barr's employed 18 full-time employees and 10 part-time.
Kuenning recalls selling the silver aluminum trees with color wheels and revolving tree stands in the early 1960s.
"I remember around 1960 we sold revolving Christmas tree stands that also played music. There were lights, music and action. But they were around $75, pretty pricey for the day," he said.
Popular Christmas candy, back in the day, was peanut brittle, peco flake, ribbon candy, cut rock and regular hard mix, not to be outdone by chocolate maple and vanilla clusters and chocolate covered peanuts, he said.
"And we had hankie specials and special towel sets that were popular," Kuenning added.
The Barr store was a good place for an entire family to shop, said Celina resident Nancy Ellinger, 84.
"My whole family would go at the same time. It was a nice place to get together and talk and meet and greet other shoppers and the merchandise was nice too," Ellinger said. "I remember one time one of my sons went off by himself in the store, and we couldn't find him. When we found him, he always let it be known it was him that found us."
Mike Yohey, 66, currently of Montezuma, remembers, as a child, always heading for the toy department in the store's basement while his parents were upstairs shopping.
"They always had a lot of toys and I had to check them out, and then there was that big candy counter," he said.
Susie Wurster, 68, of Celina, remembers working in the toy department in the Christmas season of 1958 or 1959, she says. She sold a lot of cap guns and cowboy outfits as Christmas presents for children.
She was a young 17 years old at the time and totally enamored with singer Elvis Presley, she said.
She also recalled the day she and a girlfriend skipped the last period of school to walk uptown to Barr's to purchase a 45 record - Presley, of course.
"We got caught and got suspended from school for three days," she said.
Wurster got paid in cash, every two weeks, she said, and when her dad picked her up after work, she would take her money, purchase a sweater and Christmas candy for the whole family.
"By the time I quit working, I had several sweaters for school and enough candy for all the family," she said. "It was a great store and it was a lot of fun working there."
There were seven Barr stores in all, Kuenning said, noting the chain was founded by brothers Fred and Will Barr. The first stores were located Celina, Greenville and Kenton. Later came stores in Yellow Springs and Covington and two in Indiana in Monticello and Frankfort.
The Barr chain was sold in 1978 to the W.R. Thomas Co., which expanded it to 14 stores. They were all called dime stores, Kuenning said, and all are now pretty much a thing of the past.