Monday, December 27th, 2010
Local stores do well
By William Kincaid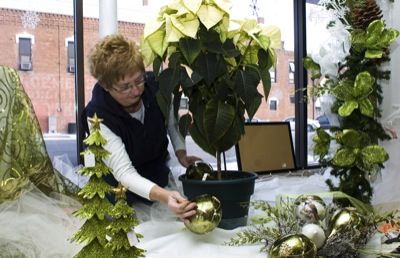 CELINA - Christmas shopping is wrapped up and local retailers are reporting a good to robust season.
"It was pretty good," Judy Hiday, owner of Floral & Friends, said. "We're a new business and we're trying to get our name out there."
Hiday said she advertised through the company's website and other traditional means and was pleased with sales from the first holiday shopping season.
Many shoppers purchased new poinsettia trees that Floral & Friends obtained through The Ohio State University's agricultural department in Wooster, she said.
"Nobody had ever seen them - it was a great success," she said.
Dean Schweizer, owner of the Celina Music Store, said the holiday shopping season went well.
Schweizer said it's always a guess on what demand for certain items will be, but the store sold several guitars and accessories, as well as gift certificates for music lessons.
The store sold several ukuleles this year, Schweizer said. The stringed instrument has become popular after being prominently featured in some pop tunes.
"Most of them had nothing," he said about ukulele suppliers, adding that the Celina Music Store still has a few in stock.
Now, Schweizer expects increased sales of sheet music as those who were given guitars will learn how to play.
Card Mart Flowers Original owner Ted Torge was satisfied with this year's shopping results.
"I guess the best way to put it was it was better than last year," he said.
Torge attributed the results to the economy being in a little bit better shape.
Jeff Halterman, owner and manager of Celina Ace Hardware, said sales were better than last year.
Halterman said the store now offers Craftsman tools, and shoppers were buying the product.
He also pointed out that November sales - including Black Friday weekend - were up slightly from last year and seasonal items, such as snowblowers, insulation, snow shovels, gloves and antifreeze, began selling well in December.
Steve Jones of Jones Jeweler said that last year was the second best holiday shopping season of the business's 43-year history.
This year was just as good, he said, adding that shoppers were looking for diamonds.
Nationally, it's been the best holiday season for retailers since 2007, which was a record year. The week ending Jan. 1 makes up less than 10 percent of the Nov. 1-Dec. 31 season but accounts for more than 15 percent of holiday spending, research firm ShopperTrak says. Analyst say holiday season spending is on track to rise 3 to 4 percent, the best percentage increase since 2006.
An East Coast snowstorm put a damper on after-Christmas shopping Sunday. The storm had malls from the Carolinas through New Jersey closing early, including MacArthur Center in Norfolk, Va., and three Tanger Outlets centers in Delaware and on Long Island, N.Y.
The timing could have been worse for retailers. Last year, a snowstorm hit the East Coast the Saturday before Christmas, costing them about $2 billion lost sales.
"People will just wait a day to do exchanges and use their gift cards. It's no big deal," said Greg Maloney, CEO of the retail practice of Jones Lang LaSalle, which manages malls across the country.
Outside the East Coast, shoppers came out in force on Sunday. The nation's largest mall, the Mall of America in Bloomington, Minn., expected 100,000 shoppers. A respite from heavy snow that's battered the Twin Cities brought in the big crowd.
The mall expects its stores' holiday revenue to rise 8 percent over last year, mall spokesman Dan Jasper said.
The snow will send some shoppers online, where sales have been strong compared with last year. Online spending rose more than 16 percent the week ending Christmas Day, IBM Coremetrics said. The average order rose 13 percent to $192.52.
From Nov. 1 through Dec. 19, total online spending rose 12 percent to $28 billion, according to research firm comScore Inc.
- The Associated Press contributed to this story.