Monday, January 3rd, 2011
Manure shipments to Indiana not new
By Nancy Allen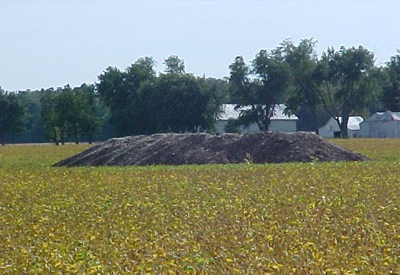 The accusation that area farmers are shipping more poultry manure to Indiana just stinks.
Local ag officials say poultry manure from the Grand Lake Watershed and surrounding counties has been shipped to Indiana for a long time, and a recent federally-backed program reimbursing farmers to move it isn't causing an influx.
"I know a lot of farmer friends who have been hauling it over there for years," said Dave Hanes, a certified livestock manager at Mercer Landmark. "I think people are just noticing it more with all the media coverage there's been."
The coverage is due to the deteriorating condition of Grand Lake. Nutrients in manure, particularly phosphorous, feed the lake's toxic blue-green algae, which bloomed excessively the last two summers and almost shut down the 13,500-acre lake.
Hanes said Mercer Landmark has been brokering poultry manure since about 1999, but it doesn't take any to Indiana. It transports it to places outside the watershed near Lima, Wapakoneta and Piqua. Mercer Landmark doesn't transport liquid cattle and hog manure, which poses the most environmental problems in the watershed.
Brokering poultry manure out of the watershed began about 10 years ago and has increased steadily, said Terry Mescher, an agricultural engineer with the Ohio Department of Natural Resources. About 90 percent of the chicken and 75 percent of the turkey manure is exported, he said.
Poultry waste is highly sought because it's cheaper than commercial fertilizer and relatively easy to transport because of its low moisture content and light weight. It is usually delivered in large amounts and piled onto farmground until it's spread.
A federal program that pays farmers fuel costs to transport manure out of the watershed was set up to encourage moving liquid fertilizer like hog and cattle waste, not poultry waste, Mescher said.
Hog and cattle manure generally is not sold or moved because it's cost prohibitive, he added. Typically in liquid form, it is hard to handle and not economical to broker because it can contain up to 95 percent water.
Chris Coulon, public affairs specialist with USDA's Natural Resources Conservation Service, which administers the federal transport program, said most of the manure that's been trucked outside the Grand Lake Watershed with federal dollars is from hogs and cattle, not poultry.
Coulon said a farmer only receives payment for a transport contract after the manure has been moved and the proper paperwork completed. Of the 35 contracts totaling $220,000, 10 farmers have submitted their paperwork to receive payment. None of the contracts were for moving manure to Indiana, she said.
"The farmer must show where the manure has been applied but only at practice certification time," she said. "The farmer has flexibility at the time of signing the contract to find a receiving field."
The farmer must take the manure to a field that has phosphorous levels below 100 pounds per acre to receive payment.
"We anticipate that some of the larger producers may transfer manure to fields in Indiana if they meet the soil test requirements; however, they have not submitted anything to us to date," she said.
Some farmers transport manure on their own without using federal contracts, Coulon added, so NRCS has no record of where their manure is going.
Indiana residents in recent media pieces say they have seen an increase in poultry manure coming to Indiana from the watershed, and they attribute it to the program.
Barbara Sha Cox, Richmond, Ind., who owns 240 acres of farmland between Lynn and Winchester abutting the Ohio border, said Ohio is moving its water quality problems to Indiana and it's not right.
Cox is a member of CAFO Watch, a grassroots group of residents from about 65 counties concerned over environmental issues associated primarily with large livestock farms, called Concentrated Animal Feeding Operations (CAFOs).
Cox took over her parent's family farm in 1988. She said she first started noticing a surge in poultry manure coming from Ohio about two years ago, before the federally-backed manure transport program was offered.
Cox said she can't prove there has been an increase in manure or that it is coming from the Grand Lake Watershed, but that's what she suspects.
"I don't have any stats on that, but it seems there has been an awful lot. I remember three or four years ago you'd smell poultry manure, but it wasn't anything like it was this year," she said.
Most of the poultry manure piles she noted this past summer were in Randolph, Jay, Delaware, Henry, Blackford, Wayne and Union counties.
Cox said she doesn't have a problem with manure per se; she has 30 cows on her own land and uses the manure on farm fields. What she doesn't like is some farmers' failure to keep the huge manure piles from running off into local waterways and letting them sit unspread for months. She also said the flies and odors surrounding the numerous manure piles are horrendous.
"We just can't allow this to continue ... it's a cumulative effect," she said. "You've seen that over there at Grand Lake."
Cox said what upsets her the most is that the Indiana Department of Environmental Management (IDEM) has no authority to stop or regulate manure imports.
Bruce Palin, IDEM assistant commissioner, said Cox is correct.
"We do have regulations in Indiana that apply to confined feeding operations and how they can store and apply the manure generated from their facilities," Palin said. "But those regulations are only written to apply to manure generated at Indiana operations not imports of manure."
Palin said about a year ago he started getting numerous complaints from Indiana residents concerning large piles of poultry manure left in fields and unprotected from runoff. Citizens also complained of odors, flies and worries about potential groundwater contamination.
Indiana regulations require a berm be built around manure piles from its confined feeding operations if the piles will be staged in a field for more than 72 hours. That same staging requirement cannot be applied to manure imports, he said.
Palin said Indiana is revising its regulations so that the same rules for Indiana manure also apply to imported manure. The new regulations are expected to go into effect some time early this year, he said.
Palin said it is his understanding that most of the Indiana fields getting Ohio manure are owned by Ohio farmers, but whether the manure is coming from the Grand Lake Watershed is unclear.
More than anything, he believes Indiana residents are upset with an Ohio plan to clean up Grand Lake that specifically encourages the transportation of manure from the fouled watershed.
"There were already folks complaining about the manure coming from Ohio," Palin said. "Then this came out, and that the government would be paying people to add more to the amount already coming in just rubbed salt in the wound."