Thursday, January 6th, 2011
Police book gives history of local force
By Amy Kronenberger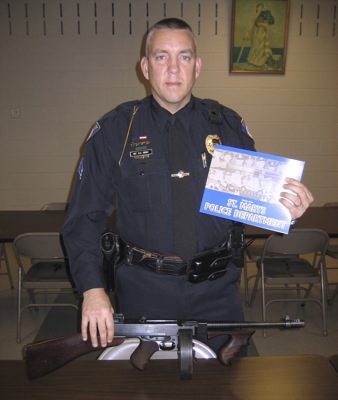 ST. MARYS - What began as a research assignment turned into a full-fledged book for St. Marys Police Sgt. Mark Ernst as he tried to find the history of St. Marys police chiefs.
"It all began when Chief (Greg) Foxhoven asked me for a list of past chiefs and their dates of service," Ernst said in a presentation to the St. Marys Rotary Club on Wednesday. "I called around to different people, and those phone calls turned into two-hour conversations as I heard story after story."
Ernst's book, "History of the St. Marys Police Department" takes the reader through the entire history of the force, including during the time of marshals before an organized police force existed. His book also shares pictures through history and personal stories.
"This is not my book," Ernst said. "This book belongs to all the officers and community members who contributed. This book belongs to everyone."
Ernst shared a few of the stories in the book, including one from the gangster-era when John Dillinger's gang robbed the First National Bank on Spring Street in 1933 - the current site of Kellermeyer's men's clothing store.
During this time, the department purchased a Thompson submachine gun, more commonly known as the Tommy Gun, to give officers an equal footing with the gangsters, Ernst said. The department still has the weapon.
He said the department bought the machine gun for $200. However, it was recently appraised at $20,000.
Along with the Tommy Gun, Ernst brought to the meeting a M3 Grease Gun the department confiscated shortly after World War II when two brothers and returning veterans smuggled it home.
The Grease Gun was a fully-automatic submachine gun issued to the U.S. Army in 1942 to replace the Thompson series submachine guns.

Purchase information:
"History of the St. Marys Police Department" written by Mark Ernst and published by Post Printing of Minster can be purchased at the St. Marys City Office for $20.