Monday, January 10th, 2011
Local Scout leader receives highest honor for saving life
By Nancy Allen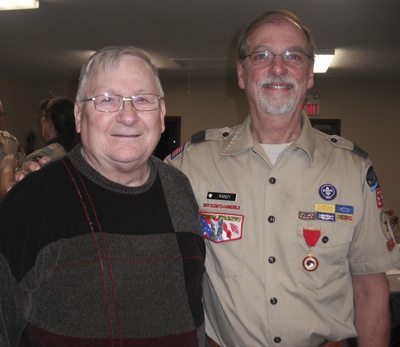 CELINA - A local Boy Scout leader received the Scout's highest honor Sunday for saving a neighbor man from drowning in a pond on May 1, 2009.
Randy Engel of Celina was awarded the Honor Medal for rescuing Hubert Allen, who accidentally backed his riding mower into the pond at the Wheatland Acres subdivision in Celina. Allen was mowing grass at his son's home.
"Somebody told me one time the only hero is a dead hero. I'm not a hero. All I am is a God-fearing man who wanted to help this fella out," Engel said following a standing ovation from young and older Scouts alike. "I thank God to help me remember the duty to my fellow man and to remember how to do CPR."
Engel and Allen, with watery eyes, embraced each other. The older man thanked him for saving his life. The families of both men surrounded them.
On the day of the near tragedy, Engel, a retired firefighter/paramedic with the St. Marys Fire Department for 18 years, had gotten home from working third shift and was blowing grass from his deck. He heard a noise he thought was his dog and turned off the blower. He then saw Allen, then 77, in the middle of the pond up to his chin in water, yelling for help.
Still wearing steel-toed work boots, Engel, then 60, dove into the water and swam to Allen. The older man grabbed Engel and both men went under. Engel pushed him away, rolled him onto his back and towed him to shore on the other side of the pond.
Neighbor John Higgins helped Engel pull Allen onto the rocks at the edge of the pond. He was blue and not breathing. Another neighbor, John Schumm, a firefighter/paremedic for the city of Celina, also arrived at the scene.
Engel couldn't find a pulse and immediately stated CPR. Allen came to and was talking when paramedics and police arrived at the scene. He was kept overnight at a local hospital for observation and released the next day with no ill effects.
The Honor Medal is presented to Boy Scouts of America youth members and/or adult leaders who have demonstrated unusual heroism in saving or attempting to save a life at considerable risk to self. The award was first given in 1923, and since then, 2,233 have been presented. In 2009, there were just 28 recipients in the U.S.
Along with being a Scout leader, Engel is a committee chairperson of Troop 69 in Celina and previously was as an adult leader for Cub Scout Pack 165, Celina. At age 17, he became an Eagle Scout, Scouting's highest rank. He has two sons also involved in Scouting, Trenton Engel, of Denver, Colo., also an Eagle Scout, and Kyle Menchhofer, Celina, a Life Scout.