Tuesday, January 11th, 2011
Fewer called to serve
Departments have hard time finding, keeping volunteers
By William Kincaid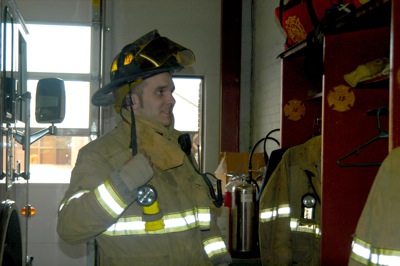 Mendon resident Iain Bruce believes firefighting is a calling.
And Bruce's commitment on a volunteer basis makes his opinion all the more plausible.
"We're volunteers. We all work full-time jobs," said Bruce, a volunteer firefighter for Mendon Fire Department and an assistant manager at Dominoes Pizza.
But like other fire departments in Ohio, Mendon is in need of additional volunteers. Bruce said the Mendon department has a roster of 16.
"Really, what we would hope for is around 20 to 24," he said.
Bruce didn't state a reason for the lack of volunteers but said it is a time-consuming activity.
Volunteer fire and rescue personnel account for more than 60 percent of the firefighters and EMTs statewide, according to a press release from The Ohio Fire Chief's Association (OFCA). Although emergency calls have doubled, the number of volunteers has fallen more than 20 percent in the past two decades.
OFCA hopes to turn that around by using a $1.195 million federal grant to launch both a media campaign and fire service leader training to recruit and retain volunteer emergency responders. The four-year campaign begins Feb. 1.
All Mercer County fire departments, except for Celina, are considered volunteer outfits. Some of the departments do offer stipends for the volunteers, said Mike Robbins, director of the Mercer County Emergency Management Agency.
Celina Fire Chief Doug Wolters said his fire department is comprised of 16 full-time, paid employees and eight volunteers. He would like to have 12 volunteers on the force. The volunteers are paid $9 an hour for active duty and training, city auditor Emily Stewart said.
Volunteer firefighters must take a 36-hour course for certification as well as 18 additional hours each year, Wolters said. Volunteers also must take 120 hours of initial EMS training and 40 additional hours every two years, he added.
"It can be (time-consuming), yes. Our guys do pretty good with it," he said.
Other local fire departments are faring a bit better, thanks in part to their junior firefighters.
St. Henry Fire Chief Ron Ontrop said his force consists of 28 volunteers and four junior volunteers, those who do about everything except go in the hot zone. The volunteers are not compensated for their time, assistant fire chief Darin Lefeld said.
The junior volunteers - some of who go on to become regular volunteers at St. Henry or full-time firefighters at other departments - fill air bottles, attach air packs on the firefighters and do other tasks.
They must be 16 or older, have a C grade average and have the full support of their parents.
"It's just like sports," Ontrop said about the grade requirement.
Though Ontrop said he is happy with the number of regular volunteer firefighters, he would like to see the force add two more junior volunteers.
Chickasaw's fire department also has an ample force, fire chief Mark Seitz said. The department does not pay its volunteers.
"Right now I have 29 (volunteer) firefighters and two junior firefighters," Seitz said. "For Chickasaw, we're in good shape."
Seitz also praised his department's junior volunteers.
"We've been doing this now for about six years, and it's been very beneficial," he said.
Junior volunteers must follow strict guidelines, Seitz said. They can only respond to fire runs until 10 p.m. and are not permitted to wear pagers at school or school functions.
"School activities are priority No. 1," he said.
Seitz said six or seven past junior firefighters have become volunteer firefighters.
"I think it's a good service to the community," he said.
OFCA's new campaign will include television commercials, local newspaper advertisements, full-size color recruiting posters, online banner advertisements and training events.
"Being a volunteer firefighter is an important and demanding job," OFCA President Chief Bernard Ingles said in a press release. "In the current economic climate, it is difficult to recruit and retain good volunteers to perform this work, and this grant will go a long way to increase staffing of Ohio's fire and rescue companies."
The grant is being administered by the U.S. Department of Homeland Security's Federal Emergency Management Agency in cooperation with the U.S. Fire Administration.