Friday, January 14th, 2011
'Riders sink Bulldogs with second-half surge
By Ryan Hines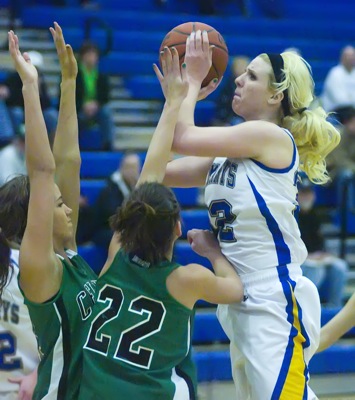 ST. MARYS -The St. Marys girls basketball team worked out the kinks from a dismal first half to rally past rival Celina in Western Buckeye League play on Thursday night.
St. Marys rallied from an eight-point deficit in the third quarter and remained on top of the WBL standings with a 52-40 triumph over the Bulldogs at Murotech Court.
The Roughriders (9-1, 4-0 WBL) remain in a first-place tie with Shawnee (9-2, 4-0 WBL), while Celina (5-5, 2-2 WBL) drops its fourth straight game.
"We seem to make the right adjustments and get after it a bit in the second half. Hopefully one of these days we'll be able to string a whole game together," said St. Marys' head coach Kelly Fulmer, who has seen her team struggle in the first half of games lately. "Celina's pressure really got to us in the first half and I think that we handled their pressure much better in the second half."
St. Marys looked like it was headed for a loss to Celina when the Bulldogs' Beth Homan canned a pair of free throws at the 4:49 mark of the third quarter to give the visitors their biggest lead of the night at 29-21.
Celina led almost all the way to that point, but things drastically changed the rest of the game as St. Marys found its rhythm. The Roughriders went on a 19-2 run over the next 6:40 to grab a commanding 40-31 advantage early in the fourth quarter.
The Roughriders, who shot just 4-of-13 from the free-throw line in the first half of play, ironically shot 8-of-9 from the charity stripe during the game-changing run. Carrie Schlater ignited the St. Marys surge with seven of her 11 points.
"They were beating us in our man-to-man, so we went to a zone and I think that it slowed them down a little bit," said Fulmer. "We attacked the basket more too in the second half and kind of took it to them. We were frustrated in the first half but we fought through it."
"We knew that they were going to make a run in the second half and we didn't do a good job of adjusting to what they were doing," said Stetler. "Up until that point, I thought we played well and did what we were asking of them. We turned the ball over too much during that spurt and we just had too many empty possessions.
"They started to hit their free throws in the second half and also had some girls step up and hit some shots when they needed them," added Stetler.
St. Marys pushed its lead to as much as 13 points in the fourth quarter before settling for a 12-point win.
Erika Thornsberry, who was just 2-of-7 shooting in the first half of play, led the way for the Roughriders with 17 points and nine rebounds. DeeDee Sudhoff hit a trio of three-pointers and finished with 11 points to join Thornsberry and Schlater in double figures.
Celina, which had 10 players dent the scoring column, was led by Amanda Hoying's 12 points.
The Roughriders are back in action again on Saturday with a road trip to New Bremen while Celina is off until a Monday encounter against Marion Local at the Fieldhouse.