Saturday, January 15th, 2011
State promises action on Grand Lake
State, local officials to meet next week to decide on second alum study
By Nancy Allen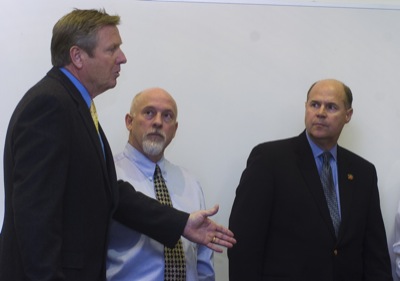 GRAND LAKE - The state will decide next week whether to conduct another alum study on Grand Lake. Results of that study would determine if a whole lake treatment should be done this year to reduce toxic algae blooms.
Members of the volunteer Lake Restoration Commission (LRC) met in private for about 90 minutes Friday with newly appointed directors the Ohio Department of Natural Resources (ODNR), Ohio Environmental Protection Agency (OEPA) and Ohio Department of Agriculture (ODA). The leaders received a copy of the LRC's new master action plan to help reduce the toxic blue-green algae, which nearly shut down the 13,500-acre lake last summer. The plan includes short- and long-term solutions to the lake's water quality.
"We're going to meet as early as next week," said OEPA Director Scott Nally "Transition or not, it's not going to wait."
The three directors, who started their new jobs this week, said Gov. John Kasich is making the lake a top priority and he expects results.
If another alum test or whole-lake treatment is conducted, finding the money to do it may be difficult, especially with a projected $9 billion state budget deficit, they said.
"We're seeing money figures for the first time right now," said ODA Director Jim Zehringer. "That's (cost) definitely going to be an issue."
Even if a new pilot study yields better results than the $250,000 study done in 2010 - which failed to meet expectations - Nally said it was "too early to tell" if doing a whole lake treatment was even possible this summer.
LRC member Jared Ebbing was positive following the closed door meeting at Wright State University-Lake Campus. The LRC was formed a year ago to find solutions to the lake's water quality. Toxic algae blooms the last two summers hurt many businesses that depend on the lake.
"Everything about it was positive and full of hope," said Ebbing, who also is Mercer County's community and economic development director. "This is a beginning, not just a meeting. At least from today's meeting I don't think we could have asked for anything more."
The LRC's action plan includes eight priorities: using alum immediately to reduce phosphorous, the blue-green algae's food source; dredging nutrient-rich sediment from the lake; providing an alternative use for manure produced in the watershed; installing treatment trains on tributaries leading to the lake; removing rough fish from the lake; using silica to slip the current toxic algae species to a good, diatom algae; using aeration devices in the lake to infuse oxygen into the water to disrupt algae formation; and reintroducing lake water level management.
Ebbing said the LRC focused mostly on using alum, dredging, rough fish removal and lake water management during the meeting.
There also was discussion about using a granular alum along with liquid to attack the phosphorous in the water column as well as the phosphorous in the sediment. The previous alum study used liquid alum.
"We're looking at enhancing a very quick demonstration to get a (whole lake) treatment by summer," Ebbing said.
The directors praised the LRC for raising $600,000 to purchase giant aerators for the lake and sediment collectors in creeks leading to the lake. Ebbing said the money raised by the LRC gave the group credibility with the state.
Tim Lovett, president of the nonprofit Lake Improvement Association, said he is worried if there is enough time to do a whole lake treatment. This summer's alum study showed the best time to apply alum is early spring before algae counts greatly increase during hot summer months. That best time, around mid or late March, is fast approaching, he said.
There was a suggestion during Friday's meeting, Lovett said, that a second alum study could be done sooner by breaking the ice over the lake. This would buy more time to do a whole lake treatment.
"Any amount of time we can buy us right now is valuable time," he said.
State directors said Friday's meeting was the first of many more to follow. They repeatedly promised action on Grand Lake's water quality. The leaders said they have had several briefings with state officials about the lake.
Nally is the former assistant commissioner of Indiana's Department of Environmental Management and has experience with harmful algae. Geist Reservoir, a popular recreational lake near Indianapolis, suffers from such algae blooms, he said.