Tuesday, January 18th, 2011
Digesting the information
Local officials tour Wooster facility; little odor detected
By William Kincaid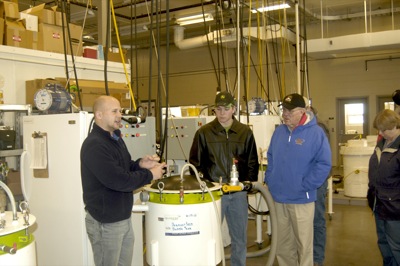 WOOSTER - There was little to no detectable odor outside a bio-mass digester operated by Quasar Energy Group on The Ohio State University's Agricultural Research and Development Center (OARDC) campus.
However, this digester - which produces enough renewable energy to offset one half of the ag campus' annual demand - only processes food waste at this time, not manure.
Butler Township Zoning Commission members Jim Chesser and Dennis Wenning, as well as other local dairy farmers, toured the plant Monday afternoon at the invitation of Quasar.
Quasar officials and local developer Steve Klosterman have asked Butler Township zoning members to rezone 10 acres near the intersection of U.S. 127 and state Route 219 from agriculture to commercial to allow a manure digester at the site. No neighbors of Klosterman's property, including those who objected to the rezoning because of odor and other concerns at a recent township meeting, attended the tour. Klosterman also did not attend the tour.
The group observed the digester and a nearby laboratory used to analyze the efficiency of mixed sources of materials used in the process.
Outside the digester, Tom Geier of Geier Dairy and Jim Keller, president of Marion Community Development Organization, said they could smell nothing.
"I don't smell anything here," Keller said.
A few hours before, Walmart had just delivered food waste to be processed, according to Russ Yoder, project developer for Quasar.
"Right now, I smell nothing," Geier said, adding that exhaust from vehicles smells worse.
Waste can be delivered to the plant by pumping directly from a truck or through a unit that compacts solids like fruits and vegetables. There was a detectable odor, although not overwhelming, near the compacting unit.
Yoder said the plant is 92 percent efficient - it burns 8 percent of gas produced there to heat the facility.
Yoder and Jason Ziss, also of Quasar, showed the group the generator, which is enclosed in a building.
On one side of the building, the noise was a low steady hum. The noise was louder on the other side. Chesser said it shouldn't be problematic for anyone 200 feet or more away.
According to Ziss, a digester could run consistently on manure alone, but manure ranks low on the source hierarchy for efficiency. Adding food waste or fats, oils and grease improves efficiency, he said, and that's what he would recommend for a plant in the Grand Lake area. The plant in Wooster has used manure in the past.
Ziss believes that at least six digesters could be developed by Quasar in the Grand Lake area. The digesters would improve nutrient management and facilitate a less harmful watershed, provide a revenue stream; allow for the expansion of existing farms; meet EPA requirements; and create on-site production of animal bedding, he said.
Ziss said technology is available to purify the effluent of a manure digester enough to release it back into a water source; however, it's very costly. Klosterman has talked about the possibility of emptying the effluent into the Montezuma Club Island sewer or giving it to farmers as a fertilizer product.
Later, the group met with company president Mel Kurtz, who stressed that the local area needs to "man-up or woman-up" to do something to address the situation of Grand Lake. He said Quasar Energy personnel have spent 200 hours in the area.
Kurtz said Klosterman was not a partner as this time but called him a strong advocate of manure digesters who has suggested several possible locations.
"He's just been the most aggressive guy in the marketplace," Kurtz said about Klosterman.
Kurtz said the best place to create a digester is at the farms, but starting any digester in the area is a good start.
If Quasar obtains a permit, the digester could be operational in 90 days.
"It's about a new industry in Celina, in Grand Lake, in the area," he said.
Ziss said the loudest people against the digester are going to be the neighbors who didn't go on the tour.
"Ignorance hurts a lot of people and arrogance hurts a lot of people," Kurtz said. "You guys are killing yourselves."
In response, Keller said the problem has been looming in the area for decades. He said the area is home to the larger agricultural producers in the state, and farmers are the most productive people in the world.
Not everybody is going to jump into one solution together, Keller said.
When asked about the group's impression of the plant, Phyllis Wenning said it was clean and not as big as she thought it would have been. She is the wife of Butler Township zoning member Dennis Wenning, whose family wants to learn more about Quasar for their own operation, Wenning Dairy.
Kurtz asked how the zoning members would vote. Chesser said he would vote yes, explaining that nothing at the plant made him feel otherwise. Wenning said he didn't see anything wrong but added that the neighbors need to be convinced.
Kurtz also said nowhere else in the state had Quasar - with projects in operation or development in Columbus, Akron, Zanesville, Wooster and Barberton - had the issue of having to rezone agricultural land to commercial as Klosterman has been asked to do by Mercer County Prosecuting Attorney Andy Hinders.
Quasar receives up to 30 percent in federal subsidies for its digesters.
"It's an actual cash grant," Yoder said.
Kurtz said it would be "very problematic" for Quasar to develop digesters without a subsidy. Quasar is unable to borrow money for such developments and relies on the subsidy, he said.
Later on, Chesser told the newspaper that producing effluent that can be discharged into a creek could be the key to digesters in the local area in the future.
After the tour, Keller told the newspaper he likes the collaboration between The Ohio State University and Quasar Energy.
"It gave me a feeling of comfort," he said, adding the company is probably not a fly-by-night operation.
Butler Township Zoning Commission will hold their public hearing about Klosterman's zoning request at 7 p.m. Jan. 25 in the Club Room, located in the Coldwater village hall above the Coldwater Public Library.