Wednesday, January 19th, 2011
Bulldogs continue to struggle
Marion Local earns road victory by holding Celina to 17 percent shooting
By Ryan Hines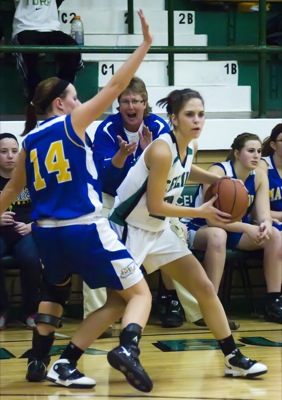 CELINA - It must seem like the rim has a lid on it these days for the Celina girls basketball team.
Marion Local's aggressive defense hounded Celina into another dismal offensive showing as the Flyers defeated the Bulldogs 50-31 on Tuesday night at the Fieldhouse.
Scoring just 31 points matches a season low for Celina (5-6), and head coach Brian Stetler is left scratching his head after watching the Bulldogs shoot just 17 percent from the floor.
"I don't think that we are taking bad shots, they just aren't falling for us right now," said Stetler. "We didn't make adjustments to what they were doing to us on defense. We didn't finish when we got opportunities inside and we didn't hit the open shots when they were available. Marion Local has a good defense, and their length can be difficult to deal with, but we didn't convert on the opportunities that were available."
Marion Local (5-6) head coach Treva Fortkamp was happy with the Flyers' defensive effort.
"Was really happy to hold them to 31 points," said Fortkamp. "Our goal is to try and keep teams in the upper 30s, so we'll take what we held them to tonight. I think that our defense out front limited their guards from many open looks and forced some turnovers."
The Flyers opened the game in a man-to-man defense but switched to zone because of minor foul trouble. Marion Local's size and length, whether in man or zone, frustrated Celina into a 9-of-52 shooting performance.
"I can't complain about our effort. We never give up and keep working hard. One of these nights those shots are going to fall and we will be a different team when we can get a little bit of offense to go along with our defense," said Stetler.
Marion Local led wire-to-wire, but Celina put a scare into the Flyers' fans in the third quarter.
Despite the dismal offensive numbers, Celina stayed in the game because of its defense, which forced 29 Marion Local turnovers.
Celina trailed 27-16 at halftime, but an Elizabeth Laffin free throw and four straight points from Amanda Hoying pulled the Bulldogs to within six points at 27-21.
A Lauren Subler short jumper and an Alyssa Winner free throw pushed the Flyers' lead back to nine at 30-21, but Celina's Beth Homan and Kylee Bader hit back-to-back buckets to make it a five-point game at 30-25 with 2:55 left to play in the third quarter.
The five-point difference was the smallest lead for Marion Local since an 8-4 advantage early in the first quarter. The Flyers quickly regained control of the game when Alyssa Winner scored five points and Chelsea Winner added a deuce in the final 2:32 of the third quarter for a 37-25 lead going into the fourth quarter.
"We felt we had a distinct advantage inside and when they made their runs at us, we called timeout and got the ball in the post," said Fortkamp.
Marion Local's lead never dipped below double digits in the fourth quarter and the Flyers cruised to the win by ending the game on a 10-1 spurt.
Subler came off the Flyers' bench and led all scorers in the game with 14 points. Alyssa Winner chipped in with 12 points while Margaret Wuebker played a solid all-around game with 11 points and 14 rebounds.
Marion Local is back in action on Thursday with a Midwest Athletic Conference road contest at Delphos St. John's. Celina, losers of five straight games, is at home again on Thursday in Western Buckeye League action as Van Wert pays a visit.