Friday, January 21st, 2011
Wolf's buzzer-beater keeps Wildcats unbeaten
By Gary R. Rasberry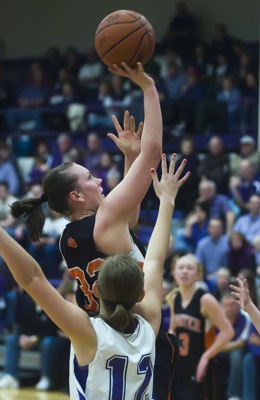 FORT RECOVERY - For the fans that braved the snowy trek to the Fort Site Fieldhouse for Thursday's big Midwest Athletic Conference battle for first place, they didn't leave wanting more.
Undefeated Minster rallied back from down 13 in the first half to duel with Fort Recovery at the end of the game. The Indians tied the game with 2.6 seconds left, but a favorable tip to Delanie Wolf produced the game-winner as the Wildcats took sole possession of first place in the MAC with a 50-48 win.
Minster, ranked second in this week's AP Division IV state poll, goes to 13-0 on the season and 5-0 in the MAC. The loss snaps a nine-game winning streak for the Indians, putting them at 9-2 and 4-1.
"This is a hard atmosphere to play in," said Minster coach Nann Stechschulte, a nod to the large crowd that attended the game. "They (Fort Recovery) were up for this game and we knew they would be up for this game. I'm just happy to get out of here alive, really."
"Girls came out and answered the bell," said Fort Recovery coach Doug Bihn. "We tell them all the time we want them to achieve competitive greatness. They competed and didn't back down."
The start of the game had the feel that the Indians will pull away and get the upper hand on the Wildcats. After leading 15-8 after the first quarter, Fort Recovery got six straight points from Kylie Kahlig, Abby Huelskamp and Holly Brunswick to make it 21-8 with 5:23 left to go in the half.
Slowly and diligently, Minster began to cut away, getting as close as five points with 3:03 left with Kayla Wuebker scoring six points in the stretch. Just when it looked like the Wildcats were back in it, though, Fort Recovery rattled off six straight points, the last two on a Huelskamp buzzer-beater, to go up 32-22 at the half.
"Where we almost lost the game was the end of the second quarter," said Stechschulte. "We're shooting free throws and we're fouling. We're fouling them 80 feet away from where they're trying to score. They go down, instead of us, making free throws (Minster was 1-for-4 from the line in the first half, Fort Recovery was 10-of-14). ... It went from five to 10 just like that."
In the third quarter Minster began to find its stroke as the Wildcat pressure on defense began to take its toll on the Indians. With 3 1/2 minutes left in the quarter, Maria Dahlinghaus' bucket cut the Minster deficit to 37-35. The comeback was complete at the start of the fourth quarter when Wolf scored 36 seconds in to tie the game at 40-all.
"Maybe our matchups (on defense) were a little bit better," said Stechschulte of the Wildcats' play in the second half. "Maybe we got a little more aggressive on defense."
Fort Recovery got back the lead and was up 43-40 when four straight points, free throws from Tara Clune and a Wolf basket gave Minster its first lead since 2-0 at 44-43. Clune added a stickback with 1:53 to go to make it 46-43.
But the Indians refused to concede. After getting the ball back after Minster tried to take some time off the clock, Kendra Brunswick nailed a three with 37 seconds left to tie it. Fourteen seconds later, Wuebker hit two free throws to give Minster the 48-46 lead. but after a Fort Recovery turnover, Minster could not pad the lead as Fullenkamp missed two free throws with 10.8 seconds left. Fort Recovery got down the court and benefited with Olivia Thien was fouled with 2.6 seconds left. Thien made both tosses to tie the game.
After the Wildcats used their last timeout, Fullenkamp threw the ball deep. Dahlinghaus and a couple Indians were there to bat the ball, with the tip going right to Wolf, who turned and put the ball in, hoping that she beat the buzzer.
"When Maria tipped it to me, I was like 'All I have to do is put it in.'," said Wolf. "I felt a little rushed. ... When I scored, everybody was screaming so loud I couldn't hear if it counted our not. We're all looking for the refs pointing down (signifying the bucket was good) (and) it did. It was awesome."
"It actually was supposed to go to Maria or Delanie," said Stechschulte. "It was a scramble and it happened to go to Delanie's hands and she put it in the hole.
"(Fort Recovery) is a very good team, obviously. They took it right at us. They killed us on the boards a few times, had us pinned on the backside and got some stickbacks. ... Kudos to them for a great effort. Sometimes, life's not fair in basketball. I told my girls it takes talent, hard work and a little luck. We had a little luck at the end."
Bihn was proud of his team's effort.
"There was times where we could have folded up our tents," said Bihn of Minster's comeback. "We didn't do it. Girls hit some big shots late to put us in position in the end. Kendra knocks down a three, Olivia hits two big free throws late in the ballgame. The last play was kind of a fluke thing. I'll tell you what big time players step up in big time games. Wolf did tonight. She made a play when she had to. It's a shame it comes down to that, but that's the way it is.
"Minster is a good team. We knew that coming in. I'm proud of my kids. My kids competed tonight."
Wuebker paced the Wildcats with 14 points. Wolf added 12.
Holly Brunswick paced the Indians with 16 points, with sister Kendra adding 11.
Both teams have big Saturday non-conference games. The Wildcats travel to Putnam County to face undefeated and state-ranked Ottoville, while Fort Recovery stays at Fort Site to face an always-tough Fort Loramie squad.