Monday, January 24th, 2011
Flyers' Homan rewarded for her inspirational role
By Randy Bruns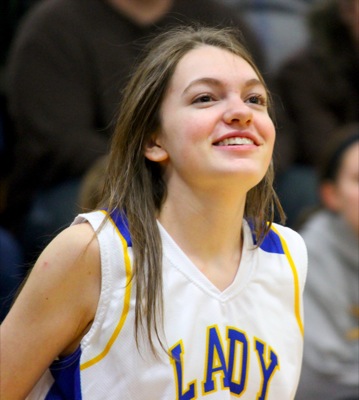 MARIA STEIN - Senior Day at The Hangar on Saturday was a special occasion for the four Lady Flyers' seniors who have toiled for four years under coach Treva Fortkamp.
This particular day was just a little more memorable, though, because Ashley Homan got her first career start.
Homan is a diminutive senior who has risen to the challenge of autism by inspiring her teammates and keeping her coach on her toes.
"She's a great kid and she makes me smile every day," said Fortkamp. "She's been like a permanent fixture here beside me, and if she's not here she's got to be sick, because she doesn't miss. She's always on time, and she lets me know when I'm over time. If it's 5:30, she'll tell me it's time to go."
Saturday afternoon was Homan's 'time to go', and she got a rousing ovation during introductions before the Flyers' contest against the Covington Buccs. Once the game started she wasted no time getting involved in the action by grabbing an errant Buccs' pass and deftly dishing to teammate Alyssa Winner who was streaking up the court. Winner was unable to convert the contested layup, denying Homan an assist, but there was still plenty of game left.
"I liked starting pretty good, and I made my first steal," gushed Homan.
Ashley later saw action toward the end of the first half but the bulk of her playing time came in the final minutes of the Flyers' 61-38 victory. Though Homan didn't make either of the two shots she attempted, she did slip a nifty pass to Brooke Winner, who turned and made a jumper to give Ashley her much-deserved assist.
Though it was the only assist of hers that made the scorebooks, Homan has made plenty of contributions to the team, according to her senior teammates.
"Ashley is one of a kind and she's really fun," said Winner. "Every time we get all serious you can just look at Ashley and she's got a smile on her face. Today before the game while the JV's were warming up she was out on the court dancing and she just had the biggest smile on her face. You could just tell that today was really important to her, and this might be one of the most important days of her life."
Fellow senior Lauren Subler agreed.
"No matter what, she's always positive and if anyone is having a bad day she'll cheer them up," complimented Subler. "Over the past four years we've learned a lot about her like she'll never wear her hair up and how certain things have to be done just so. I love playing with her because she just brings the mood up whenever she's around. It made me so happy that she got a steal and an assist and it just made this day so much more memorable for me."
According to Fortkamp, Ashley has made tremendous strides since joining the Flyers as a freshman.
"To see her grow as a freshman until now is amazing in the way she understands the game and the way we're doing things," said Fortkamp. "The other day during my halftime speech she said 'Alyssa, remember all those three's you made at Lehman!' She remembers those things that we might all forget."
Ashley surely won't forget her practice sessions, with Fortkamp putting her through her paces and ramping up her requirements each year.
"I took 25 shots (a day) when I was a freshman and a sophomore but 50 when I was a junior," recalls Homan. "I did a lot of shots as a senior in the open gyms and practice."
Fortkamp will be sorry to see Ashley go after this year and joked that it's too bad she's used up all of her eligibility.
"The girls are absolutely great with her because they've grown up with her," said Fortkamp. "She's a good person, a good student, and she's got a great attitude. She always treats everybody right and the girls treat her right. Her being here reminds us that this is just a game, and Ashley can be a part of that game."
Ashley scored her first varsity points a year ago and followed up with an inspiring bucket against Bath earlier this year.
"I scored two (points) against Lima and I really need to keep scoring," said Homan.
But on this, the biggest day of her career, Homan decided she would rather help others to score.
"Before the game today I told her she had to shoot a lot," said senior Kelly Schlarman. "But she said 'Nope, today I'm going to pass the ball.'"
Tally one more assist for Marion's Most Inspiring Player.