Wednesday, January 26th, 2011
Zoning board votes 'No'
Township trustees will have final say to allow manure digester
By William Kincaid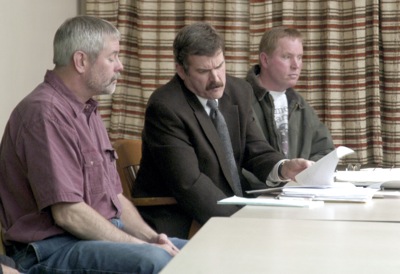 COLDWATER - Butler Township Zoning Commission members unanimously voted to not recommend rezoning Steve Klosterman's land to allow for a manure digester.
Klosterman wants his 10-acre plot at the intersection of state Route 219 and U.S. 127 rezoned from agricultural to industrial. The zoning commission's recommendation now goes to Butler Township Trustees, who have the final say.
Zoning members Greg Siefring, Dennis Wenning, Chris Muhlenkamp, Jim Chesser and Jim Broeker on Tuesday night asked a few questions and addressed concerns but did not state any reason for their opposition. Prior to the vote, members listened to several people opposed to the rezoning.
Klosterman was accompanied by attorney Jim Tesno, who told zoning members that he was there to speak on behalf of Klosterman. About 20 people attended the meeting.
Tesno said Klosterman wants to sell the land to Quasar Energy Group of Cleveland to build a manure digester, a project he called a win-win for Mercer County and Butler Township.
The digester would create temporary work during its construction and provide a place for farmers to get rid of manure, he said. Five to six trucks - no more traffic than there is now at the property - would travel to the plant every day.
Klosterman said there would be no open pits; the plant would be self-contained.
Chesser asked about dry solids, to which Klosterman replied the materials would be stored inside a building. The liquid byproduct could be given to farmers as a fertilizer or flushed down the sewer, Klosterman said.
Siefring addressed concerns about the effluent, specifically the strength and volume of the phosphorous content, and questioned if the effluent would require the Montezuma Club Island sewer to install a pretreatment system.
Klosterman did not comment on the strength or volume, but said the sewer system already has a pretreatment system that is being perfected.
Chris Grimm - one of two public supporters of the digester, both of who do not live in Butler Township - said she hopes the digester would be a place to get rid of manure cheaply and effectively.
Don Pottkotter, who said he believes there's a better location for a digester, asked if there would be tipping fees for loads delivered to the plant.
"There's no tipping fees on manure. On food products there is," Klosterman said.
"It's going to cost no matter what," Tesno added about getting rid of manure.
Pottkotter then asked how much manure they saw when they toured the Wooster digester last week. Wenning, who answered none, and Chesser were the only zoning members who went on the tour sponsored by Quasar.
When asked where food waste - also an energy source for the digester - would come from, Klosterman said Walmart and supermarkets.
Attendee Mike Prenger asked why a digester couldn't be built near farms so the manure and effluent could be pumped, not hauled by trucks.
"It's a good location for a model," Klosterman said. "This isn't going to be the only one (digester)."
Broeker said if the digester is such a good deal, why can't it stand on its own instead of relying on government subsidies.
Klosterman later said tens of thousands of dollars in government grants are given to farmers each year.
"Why is there a problem with this company getting a grant?" he asked.
"County-wide, state-wide, nation-wide, we are blowing money like you cannot believe," attendee Mike Ebbing said.
The U.S. Department of Agriculture's Rural Energy for American Program last week awarded a $10,000 grant to Lumber Yard and Barn Parts Direct, owned by Klosterman Development. The funding will go to Quasar Energy Group for planning of the project, Klosterman said.
Wenning told Klosterman it probably would have been a good idea to have brought a feasibility study of the area that Klosterman said Quasar had obtained.
"Once that outfit's up, we're stuck with it," Pottkotter said about the digester.
"The point is there's nothing wrong with it. There's nothing negative," Klosterman responded.
Klosterman- who said manure is hauled around the area anyway - later asked if people would rather see him put up hog barns on the property.
Eventually, Chesser pointed out to zoning members that they were there to vote on changing the zoning, not approving a digester.
"Whether he's going to make money putting in a digester, I don't care," Chesser said.
Butler Township Zoning Inspector Gary Gaerke said Klosterman's application was a request to change the property from agriculture to industrial for farm-related purposes. He also said a 200-foot buffer must be in place all around any structure.
Ebbing exhorted zoning members to vote for what people in Butler Township want.
"Nobody voted us in," Chesser quipped.
Zoning commission members are appointed by the trustees.
Butler Township Trustees Fred Kahlig, Hubert Homan and Nicholas Kahlig have not yet set a date for a public hearing to discuss the issue. None of the trustees went on the tour of the Wooster digester.