Monday, January 31st, 2011
Celina's boys make it 10 wins in a row
By Gary R. Rasberry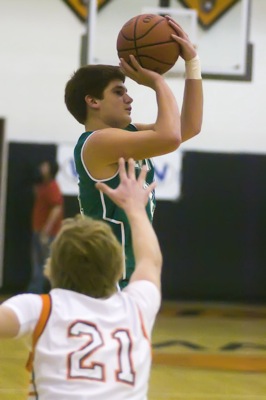 COLDWATER - The Celina Bulldogs held off a determined bunch of Coldwater Cavaliers to earn their 10th straight win as the Bulldogs won a Mercer County circuit battle with a 63-51 triumph on Saturday night at The Palace.
It wasn't easy for the Bulldogs (12-2), as every time they had a chance to put the game away, Coldwater, which has now dropped six in a row, rallied.
For the first part of the game, Coldwater (4-10) came out in a 3-2 zone that forced the Bulldogs to more of a perimeter game. Scott Moeder found his stroke and hit a trio of three-pointers in the first half as the Bulldogs were up 24-9 with just under five minutes left in the first half.
"We wanted to test their outside shooting first," said Coldwater coach Mike Bruns. "They're strong inside and outside, and we tried to pick the worst of two evils, thinking we'd make them prove it out there at first. We knew (Clayton) Hoyng could shoot from the outside after last night (Hoyng scored 17 in the first half against Shawnee on Friday), so we were conscientious of that, also."
"We wanted to get the ball down in the short corner and have our high post roll down the lane," said Celina coach Chris Bihn. "We had trouble with our timing. We couldn't get a guy down in the corner and our short corner guy on the same side at the same time."
Coldwater, though, stormed back. Ross Wermert came off the bench to score five points in the second quarter and Kyle Post added key shots as Coldwater ended the second quarter on a 13-5 run to cut Celina's lead to 28-22 at halftime.
That formula seemed to take control the rest of the game. Just when it seemed like Celina was a bucket away from putting major distance between itself and Coldwater, the Cavaliers found a way to rally.
Early into the fourth quarter, Coldwater cut Celina's lead to 45-40 but was unable to edge closer as the Bulldogs found timely free throws to extend the lead.
Even with under two minutes left, Coldwater rebounded from down 13 points to cut it to 55-49. Celina hit its free throws down the stretch as Moeder, Kahl Knapke and Clayton each hit a pair of free throws in the final 1:54. Hoyng added a bucket with 21 seconds left to give Celina its final margin.
"I think the outcome of that game was based on the inexperience on our part," said coach Bruns. "We didn't make the smart decisions, we got rattled at certain times. We shot ourselves in the leg a couple times."
Coach Bihn was impressed with the play of Coldwater.
"I'll tell you what, I don't know how they've won only four games," said Bihn, who was head coach at Coldwater in the late 1990s and early 2000s. "They're a nice team. They do some nice things with the ball. They shot the ball fairly well and rebounded well and played very good defense. They're young. They're going to be good down the road."
Nate Bihn paced Celina with 20 points, hitting his first eight free throws of the game. Moeder finished 4-of-9 from behind the three-point line en route to a 16-point night.
"That's the nice thing about this team," said coach Bihn. "We've got numerous guys who could step up. We've got a lot of guys who can shoot the ball. That helps out."
Kevin Timmerman had a big night with Austin Bruns, Wermert and Mark Brunet in foul trouble most of the evening. Timmerman finished with a game-high 22 points while Kyle Post chipped in with nine points.
Celina returns to the Fieldhouse after a three-game road excursion on Friday, hosting a tough Kenton squad. Coldwater will hit the road on Friday, traveling to Ranger Gymnasium to face New Knoxville.