Wednesday, January 5th, 2011
Celina breaks the game open in fourth quarter
By Gary R. Rasberry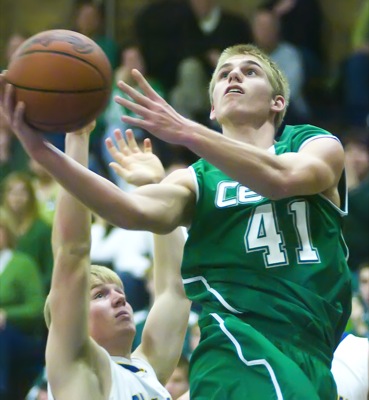 DELPHOS - A 10-0 run at the start of the fourth quarter helped vault Celina to its sixth win of the season with a 69-52 triumph over Delphos St. John's in non-conference action at Arnzen Gymnasium on Tuesday night.
The Bulldogs had one of their best shooting games of the season, missing just 13 shots all night in hitting 66.7 percent (26-of-39) from the field.
"I think the thing the kids are playing with right now is a bit of confidence," said Celina coach Chris Bihn. "They're willing to come in and take some abuse and some contact (31 fouls called in the game) and stay focused and finish. I think it was big for the kids to finish inside."
St. John's (1-4) was hot early, especially from behind the three-point line. Paced by Curtis Geise and Alex Clark, the Blue Jays were 6-of-10 from behind the three-point arc in the first half to give the Blue Jays a 34-33 halftime lead.
"Both teams were making shots," said St. John's coach Aaron Elwer. "I'm sure coach Bihn, as I did, addressed that at halftime, that things needed to be tougher at the other end. We needed to get stops. We're not going to be a team that can outscore Celina. We need to get stops. We did a little early in the third."
Neither team could get more than a lead over the first three quarters, with Celina taking a 47-46 advantage at the end of the third quarter when Nate Bihn hit a free throw.
In the fourth quarter, Celina was finally able to break away. Bihn hit a three-pointer and followed that with two free throws before Kahl Knapke added five straight points of his own to make it 57-46 in favor of the Bulldogs with 5:09 left in the game.
"We didn't do anything (different)," said coach Bihn. "We just turned up the intensity. They were sucking air a little bit. We subbed some guys at the end of the (third) quarter. We had a little bit of energy, a bit of life."
"A team like that wears on you for four quarters.," said Elwer. "They're deep, athletic and quick. They change defenses up it seems like every possession. For three quarters, our guys could handle it and kept us in it. Fourth quarter we lost our concentration. They got into the passing lanes and got a few turnovers and were able to extend their lead."
It wasn't until the 4:28 mark of the fourth quarter that the Blue Jays scored and by then, the game was well in Celina's favor. St. John's got no closer than 11 points the rest of the way.
Greg Riemesch was dominant inside down the stretch and finished shooting seven-for-seven for 15 points and added 12 rebounds.
"That was two pretty good teams out there," said coach Bihn. "St. John's has a nice ballclub. As long as they had their legs, they were good. I think they lost their legs in the second half and started hitting the front of the rim. The shots started falling a little short. Once they get their legs under them, they're going to have a nice team."
Bihn finished the night with a game-high 20 points while John Homan joined Riemesch in double figures with 13 points, nine in the second half.
Geise led the Blue Jays with 15 points while Derek Klaus added 14 with Clark scoring 10.
Celina resumes Western Buckeye League play on Friday, traveling to Wapakoneta. St. John's hosts New Knoxville on Friday as Midwest Athletic Conference play gets back underway.