Friday, January 7th, 2011
Mercer, Shelby both want tract
Two counties claiming jurisdiction of 1.62-acre parcel
By Shelley Grieshop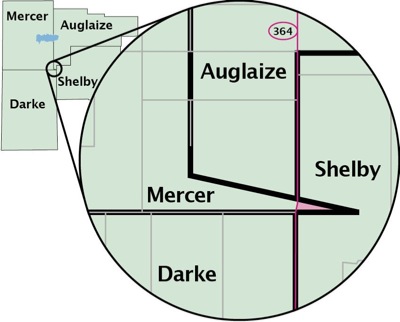 Mercer and Shelby county officials are seeking a permanent jurisdiction for a tiny tract of land that lies between them.
According to Mercer County real estate records, the 1.62-acre tract in question is in the extreme southeastern section of Marion Township where it oddly protrudes east all alone in the shape of a scalene triangle.
But Shelby County also claims sovereignty over the parcel they believe is in McClean Township, and they've always collected the property taxes on it - a scant annual sum of $28. The majority of the tax is garnished by the Minster School District - bringing yet another player into the mix.
"This isn't the first time this issue was brought to our attention," Mercer County Commissioner Jerry Laffin said on Thursday, adding it's been discussed off and on for decades.
Laffin recalled the board of commissioners contemplating options in 1998, but none were pursued. He has an opinion, though.
"This strip of ground is supposed to be in Mercer County," he said.
Shelby County Commissioner Larry Kleinhans said the parcel's boot-tip shape follows the Greenville Treaty Line, established in the Treaty of Greenville between the American Indians, frontiersmen and the U.S. in 1795.
The farmland borders state Route 364 and is just a few miles from the home of its owner, Jerry Winner of Fort Loramie. The field has no structures on it and is used exclusively for growing corn and soybeans, he explained.
"My dad and grandpa used to own it. All I know is we always paid our taxes and we paid 'em to Shelby County," he said.
Because the property is so small and the tax dollars so minimal, officials for decades chose to ignore the matter. But today's technology - such as Global Positioning System (GPS) - has prompted a final determination, Laffin explained.
Laffin said the county auditor and prosecutor recently asked the commissioners to settle the matter. Commissioners on Thursday unanimously voted to have an engineering survey completed by Nov. 1. The cost will be deducted from the engineers' budget, not the county's general fund, Laffin added.
Mercer County Commissioners hope engineers in both counties will conduct the survey jointly and end the conflict.
Shelby County Engineer Bob Geuy downplayed the controversy.
"It's not a dispute, it's just a discrepancy," he said Thursday.
Geuy said records going back to 1875 show, for tax purposes, the land belongs to Shelby County. But he admits there's skepticism.
"It appears the intent, though, was for the land to be in Mercer County," he said.
Mercer County Engineer Jim Wiechart said he became aware of the issue a few months ago. With several large road and bridge projects in the works, it's not a high priority for him right now, he said.
"There's probably a lot of records out there that need researched," he said.
The Winner family isn't too concerned with the outcome of the survey even though it could force them to amend their land deed and possibly other legal documents.
"I don't know what county it's really supposed to be in and doesn't make me a whole lot of difference," Winner said. "They'll have to work it all out and let me know."