Tuesday, February 1st, 2011
Mayor opposes vehicle buys
Two Celina police cruisers deleted from budget plan
By William Kincaid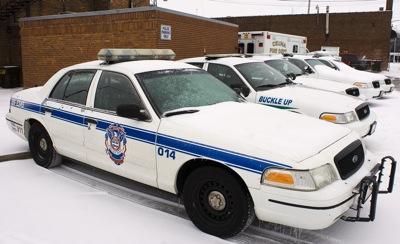 CELINA - Threats of a public initiative to reverse the recently-passed city income tax increase are making an impact on budget negotiations.
Celina Police Chief Dave Slusser says his department could use at least two new police cruisers this year. But it appears his request is off the table because of talk of a possible referendum of the income tax increase approved by voters in November.
Safety service director Rick Bachelor said Slusser initially wanted three cruisers this year, purchasing two through the city and one through a grant.
"The two he wanted through the budget process have been taken out of the budget at this point," Bachelor said. "(With) the impending initiative petition, we're not planning to make a bunch of commitments against the (income tax levy money)."
Mayor Sharon LaRue on Monday morning said she doesn't want any vehicles purchased for the fire or police departments.
"I think we need to tread lightly," LaRue said Monday, adding that she has concerns about the possible loss of the income tax money and a reduction of local government funding by the state.
Mercer County Board of Elections member Toni Slusser said any action to change the income tax rate would actually be an initiative, not a referendum, which is sought to repeal the action of a ruling body within 30 days. Through an initiative, voters would be asked to change the income tax percentage.
Board of elections deputy director Deb Sneddon said 10 percent of the voters who turned out during the last gubernatorial race - held in November - are needed for a petition for an initiative. The voter turnout in November was 3,379, therefore, only 338 valid signatures from Celina residents are needed.
Sneddon said nothing has been filed as of this morning, but anyone wanting to submit an initiative for the primary election has until 4 p.m. Wednesday. The deadline for a special election on Aug. 2 is May 4. The deadline for the general election is Aug. 10.
If the city would lose the additional $1.5 million to be brought in this year through the income tax increase, layoffs could occur, LaRue said.
"We might possibly have to go back to plan one, where we might look at some layoffs," LaRue said, adding that she hasn't talked with city auditor Emily Stewart yet about what the layoffs would look like.
Chief Slusser said he would have liked council to purchase one new cruiser immediately to replace a car that is not usable because the engine needs rebuilt. He proposed purchasing the other car after July 1, when the city would know how much money had been collected from the levy. He estimated it would cost $50,000 for two new cars and equipment.
The police department has a fleet of 13 vehicles: nine marked cruisers, including one that carries the K9 officer; one utility vehicle; and three vehicles for the chief, assistant chief and detective. Model years for the vehicles range from 2001 to 2010.
The 12 officers share eight vehicles because the oldest car, a 2001 Ford, is out of commission.
"As far as I'm concerned, at six years that car needs to be gone," Slusser said about vehicle life expectancy, adding that the department used to get two new models every other year, a practice that helped maintain a healthy fleet but is no longer followed.
Slusser wrote in an inventory report that in the last six years, the city of Celina has only purchased two new patrol cruisers and one marked administrative vehicle.
"In 2009, the city of Celina purchased new trucks for the utility departments, justifying the purchase as 'safety issues.' Only one police cruiser was approved, late in 2009 ... no cruisers were approved in the 2010 budget," he wrote.