Thursday, February 10th, 2011
Coldwater chamber presents top awards
By Betty Lawrence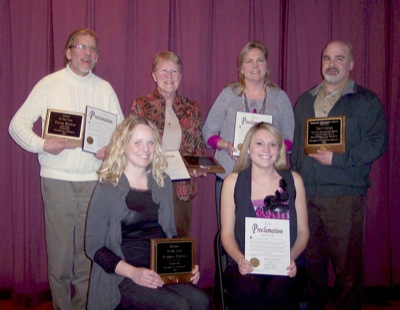 COLDWATER - Coldwater native Frank Bonifas was presented with the Coldwater Chamber of Commerce Citizens of the Year award at Wednesday's annual honors banquet.
The large crowd assembled at Overdrive applauded as Bonifas tearfully accepted the award from chamber representative Jack Hartings.
"This year's recipient can be best described as overcoming all odds," Hartings said before relating the recipient's life-long struggle with Tourette Syndrome. Bonifas wrote the book, "FU-FU-FU Frank!" to enlighten the public on the disability.
Deanna Davis and Kristi Kahlig, owners of the newly-established Innergy Fitness, were present to accept the Business of the Year award from chamber president Greg Homan.
Innergy Fitness started in 2007 and operates in a new facility on the north edge of Coldwater. With a membership base of 700-plus members and a 24-hour gym, the successful business offers a variety of dance, karate and fitness classes, weight-loss challenges and training programs, Homan said.
"Innergy Fitness' owners also place a priority on being active members of their community. They are active in the chamber, athletic boosters and established the Patriot 7K race fundraiser," Homan added.
Southside was recognized with the Business Improvement of the Year award with owners Chris and Rose Post accepting the award.
Southside has been a fixture in Coldwater for nearly 60 years and the Post family purchased the business in 2009.
"The family gave the business a facelift and the improvements under the new owner-operators have turned this restaurant into a recognized quality dining establishment," Homan said as he announced the recipient.
Another annual award presented by the chamber is the Volunteer of the Year award. This year's recipient was Liz Schindler, who accepted the award from chamber secretary Mandy Wendel.
She was nominated for the award by Briarwood Village, where she helps residents attend Mass and helps in leading the rosary.
"She even recruited her family to volunteer alongside her with her grandsons regularly working with the residents as well," Wendel said.
Schindler's other volunteer activities include Holy Trinity Church, the Coldwater School cafeteria and the Center for Neurological Development.
Mercer County commissioners John Bruns and Bob Nuding also presented achievement proclamations to the award recipients.
Coldwater Mayor Vern Stammen offered his annual State of the Village address, noting the village has received an all-time high in income tax receipts and described 2011 as a catch-up year for the village.
In other business, chamber appreciation plaques went to outgoing trustees Greg Homan, Mandy Wendel, Toni Klosterman and Ken Obringer. Welcomed as new trustees were Rose Post, Deb Post, Jay Knapschaefer and Cheryl Hogenkamp.
Over the years, Coldwater Chamber of Commerce membership has grown steadily to 110; and after annual reports by the chamber treasurer and secretary, Homan presented an update on the numerous projects and activities put on by the chamber each year.