Friday, February 11th, 2011
Courthouse renovation
Bids opened for stained glass, painting
By Amy Kronenberger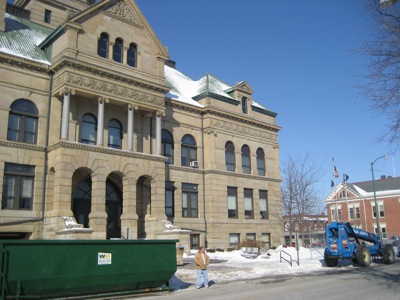 WAPAKONETA - Bids came in below estimates for phase two of renovations to the Auglaize County Courthouse.
Commissioners on Thursday opened bids for stained glass restoration, painting and plumbing.
Two bids were submitted for the stained glass windows - Whitney Stained Glass Studio, Cleveland, with a bid of $157,000 and Window Creations of Fort Jennings with a bid of $218,500. Both offers came in well below the county's budget of $370,338 for the work.
Three companies submitted bids for painting: Thomarois of Akron, EverGreen Architectural Arts, Oak Park, Ill., and Brian Brothers Painting and Restoration, Piqua. Thomarois bid the highest at $747,000 and Brian Bothers the lowest at $463,500. The county's budget for this project was set at $495,900.
New plumbing bids were opened after the original bids submitted in January were rejected for being over the budget of $190,000. Commissioners and Garmann/Miller Architects and Engineers, Minster, increased the budget to $425,000 and asked the companies to resubmit an offer.
The new bids ranged from $369,000 by JMC Mechanical, Wapakoneta, to $498,700 from Smith-Boughan, Lima. Also bidding was Frye Mechanical of Dayton.
Bruce Miller of Garmann/Miller said the bids for stained glass restoration and painting would be reviewed and awarded in the next 30 days.
Commissioners soon plan to award the plumbing work to low bidder JMC Mechanical. They plan to meet with the company Thursday so the plumbing process can begin as soon as possible, said Julie Sabourin of Garmann/Miller.
Sabourin said the plan is to restore the courthouse to its original colors of natural earth tones, while cleaning and restoring the existing stained glass windows.
The first round of bids, which included general construction, electrical work and fire protection, were awarded last month. That work began this week. The final round of bid packages will be for millwork and furniture/auditorium seating and will be issued Feb. 17. Those bids will be due March 10.
The total cost of the project is budgeted for $7.3 million, being paid for through the permanent improvement fund and an Energy Efficiency and Conservation Development Block Grant.
Most of the courthouse construction is being done on the third floor. The west side is being converted into the prosecutor's office, and a "third and a half" floor is being added in the middle of the courthouse for additional office space.
The basement is being remodeled into the public defender's office, and both courtrooms are being expanded to their original size by removing the partitioned office areas. The project also includes restoring all stained glass windows and replacing the heating and air conditioning systems.
The entire project is to be completed by late spring 2012.