Saturday, February 12th, 2011
Celina contains McAdams, stays on top of WBL
By Gary R. Rasberry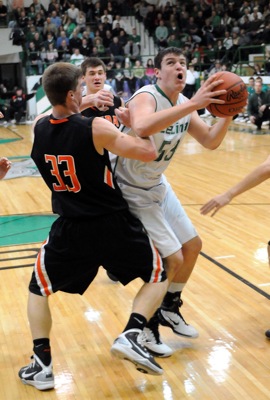 CELINA - The mission for Celina was simple: contain Reggie McAdams for as long as possible.
Chris Bihn's squad came up with the effort, holding the reigning Western Buckeye League Player of the Year to just two points in the first half, long enough for Celina to get a lead and hold on for a 77-71 win to maintain its share of the WBL lead on Friday night at the Celina Fieldhouse.
It was no surprise that Celina was going to put pressure on McAdams, as coach Bihn stated that point earlier in the week. Among the players assigned to closely guard McAdams included Nate Bihn, Clayton Hoyng, John Homan and Kahl Knapke, who at 5-7 gave up nearly a foot to the 6-6 McAdams.
The end result was McAdams being held to just 1-of-4 shooting in the first half for two points. McAdams did finish the game with 18 points, but earned each point along the way.
"I'll tell you what, the thing with Reggie is that he's so comfortable in his role, he doesn't push it or force it," said coach Bihn after his squad's 12th straight win. "He was taking what was coming to him. Our guys did a great job trying to prevent him from taking shots, but he was in a flow, letting things go and getting other guys shots. He was playing a pretty good game at the time."
With McAdams under tight scrutiny, that allowed the Celina offense to take shape. Hoyng had seven of Celina's first 13 points in the game as it was 13-9 Celina at the end of one. Nate Bihn and Greg Riemesch stepped up in the second quarter, scoring five points each as Celina got up as many as 14 in the second quarter and were leading 33-24 at the half.
Try as they may, Celina could not keep McAdams down all night, and the junior showed why he is one of the best in the area, getting the ball and hitting some big shots that allowed Elida to get within three at 45-42 with 1:37 left in the third quarter.
But what would become a ritual in the game, Celina found the timely shot when Elida got within close proximity. Hoyng hit a bucket seconds later to push it to five. Bihn hit free throws with 16 seconds left, then as the buzzer sounded, drilled a three-pointer to put Celina back up 52-42 at the end of the third quarter.
In the fourth quarter, Elida continued to push into the Celina lead, getting it down to 60-55 with 2:55 to go on a Dakota Mathias three-pointer. Celina again responded as Ross hit a three-pointer and Riemesch got a big offensive board and stickback to make it a 10-point game again.
"I think a lot of that comes back to experience," said coach Bihn of his team's ability to snap back. "It goes back to understanding things and have focus when it gets down to crunch time, you know you have guys step up. I think we had numerous guys do that tonight for us."
Mathias, just a freshman, continued to put the pressure on until the final seconds, hitting three three-pointers in the final 25.1 seconds to keep Celina on its toes. Celina hit seven of its final eight free throws down the stretch to keep the lead safe.
"We had little margin of error," said Elida coach Denny Thompson. "To beat a good team like that on their floor, you can't miss free throws. We gave them multiple second chances. We didn't rebound misses. When there's little things like that that add up, like I said, when you have no margin of error, you're going to lose games if you do those things."
The play of Riemesch in the fourth quarter was a big key to Celina's win. Riemesch scored nine of his 18 points in the final period, with several baskets coming off offensive rebounds. Riemesch also pulled down 11 boards in the game.
"Greg is a nice post player. Throughout the season, he continues to get better," said coach Bihn. "There might have been one time where he slipped backwards a bit, but he got back on the right track the next game. He's been progressing and getting better.
Nate Bihn added 18 points before fouling out with 1:15 left in the game. Hoyng and Ross came off the bench to score 15 and 12.
Mathias came through in a big way, scoring 14 of his game-high 22 points in the final period.
"I wouldn't say I expect it out of a freshman, but I expect Dakota to make shots like he made in the second half," said Thompson. "He looked for the ball, and we need him to step up and make shots for us."
Andrew Clevenger scored seven of his 15 points in the opening quarter for Elida.
Celina is back in action tonight, traveling to Auglaize County to face New Bremen in a Grand Lake Area matchup.

WBL Standings:

WBL Overall
Celina 6-1 14-2
Ottawa-Glandorf 6-1 11-6
Defiance 5-2 13-3
Van Wert 4-3 13-3
Elida 4-3 11-6
Bath 3-4 8-9
Kenton 2-5 10-7
St. Marys 2-5 8-8
Shawnee 2-5 6-10
Wapakoneta 1-6 3-13