Monday, February 14th, 2011
Family escapes from fire
Mud Pike Road home destroyed in Saturday blaze
By Margie Wuebker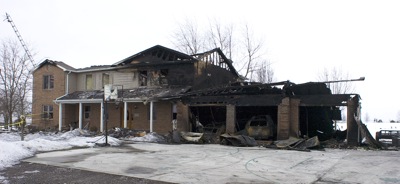 CELINA - Family members escaped their burning Mud Pike home without injury Saturday morning. The house is a complete loss.
Celina Fire Department, along with five other departments, responded to the home of Steve and Katey Eichler, 5244 Mud Pike Road, Celina, in response to a 911 call at 11:40 a.m.
The Eichlers were in the final stages of completing a remodeling project that involved the addition of a large three-car garage. Celina Fire Chief Doug Wolters said Steve Eichler was painting in the living room when he smelled something and looked toward a window in a door leading to the garage.
"All he could see was orange," the chief added.
Katey Eichler, a local teacher, reportedly looked out a front window and saw heavy smoke. The parents and their five children escaped out the back of the home and summoned firefighters. Fire detectors inside the home went off as they fled, Wolters said.
Footage from a police cruiser responding to the scene shows heavy smoke billowing skyward as the officer approached the scene. Wolters also confirmed smoke was visible as fire trucks headed westward out of Celina.
The blaze apparently started in the garage. Wolters stressed firefighters found nothing suspicious at the scene but need more time to determine the point of origin. Two vehicles parked inside the garage were destroyed.
Celina firefighters requested mutual aid from four other departments - Coldwater, Montezuma, Rockford and St. Henry. A tanker relay was established to bring water from the Mercer County Fairgrounds, less than 1 1/2 miles away.
Mud Pike, between Fleetfoot Road and the Celina corporation limits, was closed to allow room for tankers arriving with loads of water and departing for more. The road was opened for regular traffic shortly after 5:30 p.m.
"We spent a long time doing overhaul because the fire breached almost every part of the house and garage," Wolters said. "Basically, the fire burned off the top part of the house. It's a total loss."
Thirty-five to 40 firefighters and 11 trucks remained on the scene for seven hours.
Loss of the house and its contents are estimated at $350,000. The local chapter of the American Red Cross also came to the scene and the Eichlers' insurance company has arranged a temporary place for them to reside.