Monday, February 28th, 2011
Area under water
People evacuated, roads closed, emergency declarations issued
By Shelley Grieshop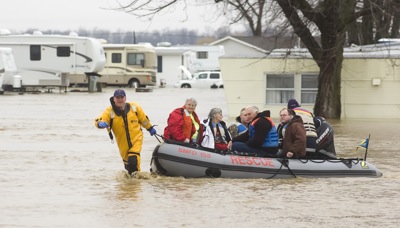 A deluge of rain and melting snow overnight caused flooding that chased some Mercer and Auglaize county families from their homes early this morning.
Water rescues - some by boat - were ongoing at different locations at press time today after nearly 3 inches of rain fell and swelled Grand Lake, area rivers and creeks. Emergency declarations were issued in Mercer County, as well as the village of Coldwater, to possibly help flood victims obtain funding for damage.
Firefighters from Montezuma and St. Marys used boats to evacuate about two dozen people from a mobile home park at Hecht's Landing on the south side of Grand Lake. Several ambulances were summoned to the scene, although no one reportedly was injured.
"We called the squads because the temperature was only about 37 degrees. It was pretty cold, and we didn't know if anybody had been in the water," Auglaize County EMA Director Troy Anderson said. "We wanted to get everybody checked out."
Evacuees boarded local school buses and were transported to the YMCA along state Route 703 where the Red Cross set up a temporary shelter.
Countless homes in the two-county area resembled islands as water surrounded them. High-water signs and barricades quickly became scarce as road crews attempted to warn motorists of hazardous streets and highways. Across the area, 911 dispatchers kept busy fielding calls about stranded motorists.
Mercer County EMA Director Mike Robbins warned drivers to be careful in the next few days as the waterways continue to rise.
"I can't reiterate enough: Do not drive or walk into standing water unless you're absolutely sure how deep it is," he said.
Robbins said the communities of Celina, Coldwater, St. Henry and Fort Recovery received the most flooding, as well as lake area properties. He cited dozens of reports of water pouring into basement windows in the middle of the night.
"It was pretty bad this morning," Coldwater Village Manager/Engineer Eric Thomas said. "There was storm water and sewage coming up in some homes. It was just more water coming in at the treatment plant than our pump could handle."
Coldwater Mayor Lavern Stammen declared the village under an emergency at 4:20 a.m.
The mall parking lot and several streets on the east side of Coldwater were closed when water inched near the doors of Chief supermarket but subsequently receded, officials said.
About a foot of water filled the basement of the elementary school along Vine Street where kindergarten students attend class. Coldwater and several other districts canceled school for flooding-related problems.
"It will take a few hours to get the water level down so we can get down there, assess and begin the clean up," elementary principal Wade Spencer said early this morning.
If school is held Tuesday, kindergarten students may be relocated, he added.
At approximately 3 a.m., tornado sirens were activated in St. Henry. It was later determined to be a false alarm. Residents had bigger worries.
"We could have about 100 homes with flood damage," village administrator Don Hess said.
Firefighters responded to several dozen homes with severe flooding. The worst scenes appeared to be on the west end of town where water flowed freely into the main level of several residences, Hess explained.
Robbins - who reported to work at 3 a.m. today - described the village of Fort Recovery as "a real mess." Just like Hecht's Landing, boat rescues were needed at a flooded mobile home park.
State route 119 near the Indiana line was closed with 3 to 4 feet of water sweeping across from the swollen Wabash River, Sheriff Jeff Grey reported.
The St. Marys River had risen to 9.4 feet at 8 a.m. today. It is expected to crest above flood stage - 13 feet - by Tuesday morning and reach 13.8 feet by Wednesday morning. Anderson said he's requested an additional 5,000 sandbags to place at several flood-prone areas along the river.
Robbins said it's difficult to predict when Grand Lake will crest. The Beaver Creek, which carries the lake water from the spillway, was rising fast this morning and likely will cause road and property flooding throughout the next few days, he said.
"The rivers and lake will get much worse before they get better," he added.
Despite the chaos of today, weather forecasters have a bit of good news with the arrival of March - dry weather and sunny skies for Tuesday through Thursday with highs in the 40s.