Tuesday, February 8th, 2011
Bulldogs knock off Spartans in OT
By Ryan Hines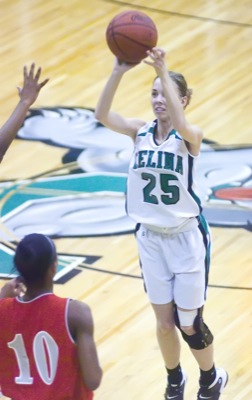 CELINA - The Celina girls basketball team had its best offensive game of the season on Monday night and the Bulldogs needed every bit of it to slip past Lima Senior.
Celina shot 48 percent from the floor and got a big lift from Amanda Hoying on the way to a 58-53 overtime win over Lima Senior at the Fieldhouse.
"This is a really nice win for our girls. Any time that a young team can go out and win a close game is nice to see," said Celina head coach Brian Stetler. "I thought that we got a lot of solid contributions from a lot of different people."
One big contributor was Hoying, who drained four-of-five three-point tries on the way to a team-high and season-high 17 points.
None of Hoying's trifectas were more important than the one she hit in overtime that helped propel the Bulldogs to victory.
Celina was nursing a 51-50 lead in overtime when Hoying got open on the wing and drilled the three-pointer that put the Bulldogs up 54-50 with two minutes left in the game. Hoying added a pair of free throws with 25 seconds left to play that pushed the Bulldogs' advantage to six points.
Lima Senior's Dionna Hurley, who netted a game-high 25 points in the game, pulled the Spartans within three points at 56-53 when she swished an open trey from the corner with just over 17 seconds remaining in the game.
Celina was then called for a five-second violation trying to get the ball inbounded, giving the ball back to Lima Senior. Hurley missed a potential game-tying three-pointer from the corner and the rebound ended with a jump ball and the Spartans had possession.
On the inbounds pass, Celina's Kylee Bader stepped in front of a Lima Senior player for a steal with just over seven seconds to play in the game. Mackenzie Rutschilling sealed the game for the Bulldogs with a pair of free throws with just 5.8 ticks left on the clock.
"It's always good to see your seniors step up in big situations and I thought that Amanda and Mackenzie both did that in clutch situations tonight," said Stetler.
Celina needed an Elizabeth Laffin short jumper off the glass with 43 seconds left to play in regulation just to reach overtime. Laffin scored seven points off the bench for Celina, which also got 10 points from fellow sub Beth Homan.
"I thought our bench really came in and did a nice job for us, contributed in a lot of different ways and that's what we are looking for on a consistent basis from our bench," said Stetler.
Celina is back in action again tonight with a road trip to Convoy to take on Crestview.