Saturday, March 5th, 2011
St. Marys captures state championship
By Gary R. Rasberry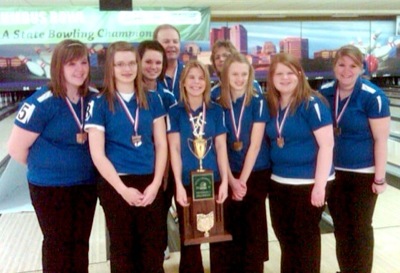 For the St. Marys' girls bowling team, it was a battle all the way to the gold.
After needing a bowl-off just to make the eight-team finals of the 2011 OHSAA State Bowling Championships, the Roughriders worked their way through the final rounds of competition to capture the team state title. The state championship comes in St. Marys' first-ever appearance at state on Friday at Wayne Webb's Columbus Bowl.
"I didn't think we'd ever make it this far," said Stefanie Lowry, the lone senior for St. Marys. "When we made it to (the championship round), I said we needed to beat Coldwater and beat Troy to get on TV (the championship match is aired on television). I watched it last year and I wanted to be there someday. Today, it happened."
St. Marys' coach Carl Keysor was nearly at a loss for words trying to summarize a wild day, which included a lengthy delay because of a power outage at the event.
"I'm still speechless, to be honest with you," said Keysor after the awards presentation. "It's been one crazy day with a lot of crazy events that took place today."
St. Marys had some early struggles, but after the third baker game, they were tied with Beavercreek with a score of 3,102, which resulted in a roll off.
In the tiebreaker, coach Keysor chose his daughter Erica to bowl the two frames. Erica came up strong, rolling a 47 to Beavercreek's 40 to put the Roughriders in the final eight.
"We were fortunate enough to pick the right girl," said coach Keysor of his daughter. "She did what she had to do. I told them all year 'You can't win it unless you're in it.' I don't know if there's any truer words than that."
As luck would have it, the road to the title meant a battle in the first match of the championship round against West Ohio High School Bowling Conference foe Coldwater. The Cavaliers were the top-seeded team in the final eight with a score of 3,390.
Coldwater started out strong in the best-of-five game series, rolling a 193 to St. Marys' 155. St. Marys came back to take the next two games 158-144 and 181-148. In the third game, the Cavaliers got a 243-172 win to force the fifth game, which the Roughriders won 175-171 to advance.
"We've been close with (Coldwater) all year," said coach Keysor. "Those darn baker games (where all five bowlers take turns bowling a frame, which is the format for the championship round) have always bitten us in the butt. Coldwater comes right out of the game and has only one open (frame). ... We snuck by them in the third game and the girls had a little hope."
"We had a good feeling," said Lowry after the win over Coldwater. "We were like 'We don't care, this is what we want.' We just wanted to beat (Coldwater) for one. We're tired of them being ahead of us."
Against Troy, St. Marys again fell behind early, this time 2-0 as the Trojans won the opening two games. St. Marys came back with a 211-156 win in game three and 184-179 triumph in game four to force a fifth game. St. Marys reached the finals with a 181-171 win over Troy.
St. Marys faced off against Hubbard in the championship game. Again, the Roughriders lost the opener, 165-149, before taking the next two 149-140 and 176-165. In game four, Hubbard had a chance to win and send the title match to a fifth game, but a couple missed pins made the difference as St. Marys won the match and the championship 160-158.
"Their anchor bowler had to step up. They were up on a strike (in the 10th frame). If she threw a strike, it would go to a fifth game," said coach Keysor. "The girl absolutely threw a perfect shot that just didn't fall."
With a state title in St. Marys' first-ever trip to state, coach Keysor was proud of his team.
"I just can't believe it," said coach Keysor. "These girls pulled together when they needed it the most. They sucked it up. There sure was a lot of pressure. I have a lot of bowling experience, but I don't know if I would have the nerve to do what these girls did today. They pulled together and shocked the bowling world."
The Cavaliers finished fifth in the tournament.
The championship match between St. Marys and Hubbard will be on SportsTime Ohio on Monday starting at 7:30 p.m.