Monday, March 7th, 2011
Indians capture first district crown since 2001
Division III Girls Basketball District Final
By Mark Ruschau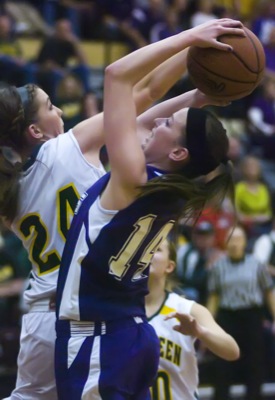 KALIDA - The Fort Recovery Indians used a solid defensive effort and found enough to hold the Evergreen Vikings 48-38 to capture the Division III District tournament title Saturday night at Kalida High School.
With the title, their first district title since 2001, the 12th-ranked Indians improve to 21-2 and will take on the-second-ranked Millbury Lake Flyers Tuesday night at 7 p.m. in the Lexington Regional semifinal at the King Horn Center on the campus of Ohio Northern University. The other semifinal will pit sixth-ranked Columbus Africentric against Seneca East, which will be played Wednesday at 7 p.m. at Lexington High School. The semifinal winners will meet Saturday at Lexington.
"We finally were able to win a district and go to the regionals. It has been a long time coming," said Fort Recovery coach Doug Bihn. "These kids deserve it. All 15 girls on the squad knew what their roles were and they executed them. I could not be more proud."
"Winning this is such a great feeling," said senior Kendra Brunswick. "We knew that this was going to be a tough game, but we knew what we had to do. People stepped up. We scored, played our defense and we came out on the right side. It's great."
The game was billed as a battle of David versus Goliath as the Vikings came in with a starting line up that featured three girls standing 5-foot-11 or bigger, led by leading scorer, 6-1 Lauren Langenderfer and 6-2 center Ingrid Oswald while Fort Recovery's starting lineup topped out at 5-9.
With this in mind, coach Bihn knew that that it was crucial for his squad to make it an uptempo game, in which they would use their quickness to put pressure on the Vikings and neutralize their size by being quick to the glass.
"We had a great defensive effort tonight," said Bihn. "We are not a very big team and for us to be successful we have to put pressure on the other team a little bit, we knew that if we going to play a half court game that we would be in trouble. We knew that were not going to match up against a team like that features girls that are 6-1 and 6-2 and we knew that we had to create a tempo that would make them uncomfortable and are guards did a great job of doing that."
The statistics bear out the Indians' great defensive effort as they held Evergreen to just 11-of-37 shooting from the floor (29 percent) and forced Evergreen into 19 turnovers. Fort Recovery did a great job on the glass as well. Although out-rebounded 36-27, the Indians allowed just six offensive rebound, which the Vikings converted into just five points.
"We told the kids that if we were going to win that we had to control the tempo and had to control the boards," said Bihn. "Size is not the only factor in rebounding, it is a lot of heart, determination and desire to go after it, we have team that has flat out done that kind of thing all season long and that is kind of special."
The first half could not have been scripted better for the Indians as they were able to set the tempo that they wanted, forcing Evergreen into 14 turnovers and matching the Vikings on the glass, which resulted in Fort Recovery getting 14 more shots.
The only problem for the Indians was that they were unable to get anything going offensively until late in the half. Trailing 11-8, with just over two minutes left in the half, Olivia Schwieterman hit a three to tie the score, after two Evergreen free throws, Kendra Brunswick hit a three from the wing to give the Indians the lead for good, 14-13.
After an Evergreen turnover, Kelly Nietfeld hit one of two free throws, with Kendra Brunswick grabbing the rebound and hitting another three-point field goal to put her team up five, 18-13. Fort Recovery went into halftime leading 20-19.
In addition to sparking the Fort Recovery offense, Kendra Brunswick did a yeoman's job on the glass as she grabbed a team-high 11 rebounds.
"We knew that someone had to step up and rebound. I am glad that I was able to help with that," said Kendra Brunswick. "I usually do not rebound as well as the other girls do, but today I stepped up because I felt that was what I had to do."
"Kendra is as good as they come. She has the whole package," said Bihn. "She is a good shooter, she plays good defense (and) she throws her body everywhere. She is as good as they come on both ends of the floor. Four years ago as a freshman, Kendra was just a shooter and she has developed into one of the best defensive players around."
The third period, Evergreen was able to control the tempo as there were just 12 possessions for each team, but Fort Recovery was able to build on its lead nonetheless, outscoring the Vikings 8-4 to take a 28-23 lead into the final period. Defensively, the Indians held Evergreen to just four free throws, while on the offensive end the Indians were able to score eight points keyed by threes by Kendra Brunswick and Olivia Thien.
The Indians were able to hold the Vikings off in the final period, outscoring them 20-15, thanks in large to the efforts of Holly Brunswick, who scored 14 of her game-high 17 points, including 7-of-8 from the charity stripe.
TICKET INFO - Tickets for Tuesday's regional semifinal game with Millbury Lake at Ohio Northern University will be on sale until 7:30 p.m. tonight and on Tuesday from 7:30 a.m. to 1 p.m. in the high school office.
Presale tickets are $6 for both students and adults with tickets at ONU $8. The school encourages fans to purchase presale tickets as the school receives a portion of the presale.