Monday, March 28th, 2011
Local experts suggest home inventory to help after tragedy
By Shelley Grieshop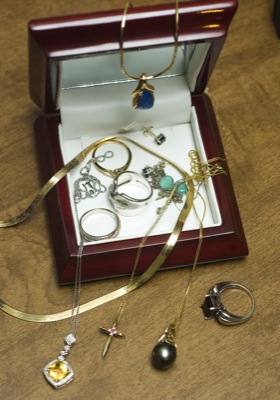 Betty Feliciano of Celina vividly recalls the thick, black smoke that left her disoriented inside her burning home several weeks ago.
She managed to make it out of the fiery structure that early morning with only the clothes on her back. Since that time, she's sifted through what's left of her damaged possessions - a favorite broach, her deceased husband's wedding ring, antique furniture - in hopes of getting reimbursed by her insurance company.
Having a list or other type of documented proof of belongings may have saved time and money, Feliciano admitted.
"I'm embarrassed to say I didn't have anything like that. Through the years I've been so proud of being organized, but I never thought to do that," she said.
Creating a home inventory of valuables and other material items can help families cope with tragedy and recover their losses, local insurance agents say.
"We recommend it, most definitely. We always suggest it when we issue new policies," said Jay Purdy, sales manager for Community Insurance Group in Minster.
Insurance agents often instruct clients to videotape or photograph their belongings and then store the data in a safe deposit box, he said.
"Otherwise, when claims are submitted, you have to go by memory ..." which isn't always reliable in stressful times, he said.
Ric Murlin, co-owner of Hecht-Murlin Insurance of Celina, said when a tragedy such as a burglary or fire occurs, victims aren't always thinking clearly.
"In a time of loss, people get flustered and can easily forget some really important items that were lost," he said.
The Celina business allows its clients to store their documented inventories - including receipts - in their office files, or Murlin suggests finding another location besides the residence.
"If the home is destroyed, the records are gone," he said.
The Ohio Department of Insurance, the state regulatory authority for the insurance industry, recommends homeowners take a few moments while spring cleaning to do a home inventory.
"Not having one puts you at a great risk for inadequate insurance coverage if those valuables would need to be replaced due to fire, theft or natural disasters," Ohio Lt. Gov. Mary Taylor said in a news release.
The National Association of Insurance Commissioners (NAIC) recently developed an iPhone application to create a home inventory. The free myHOME Scr.APP.book app has many options; it allows users to photograph and capture images, descriptions, bar codes and serial numbers and store them electronically for safekeeping.
The NAIC also provides a home inventory template to download at www.insurance.ohio.gov.
Murlin said property owners should act before a disaster strikes, such as the recent flood that damaged many local homes and possessions in late February.
"Set time aside to do it. It's one of those things people think won't ever happen to them, but it can," he said.
Although the fire in Feliciano's home occurred more than six weeks ago, she still awaits a final insurance settlement, she said. She believes having a home inventory might have sped up the process.
"People could save themselves a big headache ... it would only take an hour or so each year," she said.
When asked if she'll inventory her new home, Feliciano didn't hesitate.
"Oh, you betcha," she said.

What to do:
The Ohio Department of Insurance offers the following tips to create a home inventory:
• Make a list of possessions such as jewelry, fine art, family heirlooms, collections, furniture (including flat-screen televisions) and custom-made items.
• Take note of common possessions, too, such as toys, CDs and clothing. Don't forget items used infrequently such as holiday decorations, sports equipment, tools and outside objects like swing sets.
• Include copies of original receipts and/or appraisals; document model and serial numbers.
• Group possessions in categories per room in the house.
• Carefully photograph or videotape each item and document a brief description with age, purchase price and estimated current value. Videotape and/or photograph open drawers and closets, too.
• Store home inventories and related documents in a safe, easily-accessible place, such as a secure file online, a fire-proof box or a safe deposit box. Share a copy with your insurance provider.
• Review and update the inventory annually and anytime a significant purchase is made.