Tuesday, March 29th, 2011
Big second inning paces Bulldogs over Redskins
By Gary R. Rasberry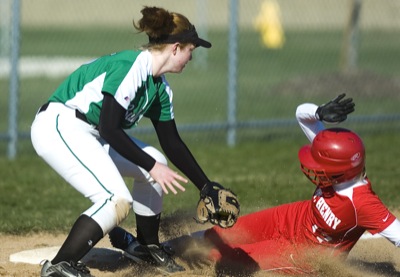 ST. HENRY - Celina sent 10 batters to the plate in the top of the second inning, scoring six times and pulling away to open the 2011 softball season with an 11-1 win over St. Henry at the Wally Post Athletic Complex.
After an uneventful first inning, Danielle Uhlenhake gave up a single to Leah Rose to start the second, but then she enticed Katie Kerr to ground into a fielder's choice that forced Rose at second. Hillary Heiby followed with a double to put runners at second and third for Ashley Puschel, who set up for the bunt. The ball quickly stopped in the dirt, but Uhlenhake could not make a play, allowing courtesy runner Madi Kuhn to score the first run of the game.
The first run opened the gates. Kassandra Williams grounded out to bring home the second run of the game, followed by an RBI single by Amanda Hoying. Christine Thobe followed with a single and, after Hoying came home on a wild pitch, Abbey Zacharias belted a shot over the left-center field fence to make it 6-0. Uhlenhake allowed one more hit before getting Rose to ground out to end the six-run, seven hit inning.
"I was really happy to see our bats come out today," said Celina coach Nicole Driggs. "I said early in the season, defense would be our strength and the offense I was concerned about. I was really happy to see the girls connect and make the most production. ... It seemed it was a team effort (all nine batters got at least one hit). I'm excited to see that."
Meanwhile, Kerr was rolling along. The Redskins got a run back in the bottom of the third when Ashley Heitkamp doubled and later scored on a wild pitch, but Kerr scattered three hits and three walks over six innings of work, striking out six. When St. Henry got the bat on the ball, the Celina defense came up with several big plays.
"I told her to go up and pitch and let her defense defend," said Driggs. "She was struggling a bit at hitting spots tonight. She could get movement but not hit the spots we wanted tonight."
"She did a nice job keeping the ball down on us," said Melissa Starkey, making her debut as Redskins' skipper, of Kerr. "She got us to chase a little bit, which it one reason we hit the ball into the ground.
"We'll hit the ball. I'm not concerned about that right now,"
Both coaches had praise for one another's programs.
"We had to have our A-game for (St. Henry)," said Driggs. "I'm proud of the girls. I know we face tough competition with St. Henry."
"We always play Celina at the start of the season. They're a strong team," said Starkey. "All WBL teams are pretty good. It's a good test for us, too, because they're probably as good as any team we're going to see this year."
Hoying, batting out of the nine-spot in the batting order, went 2-for-3 and drove in three runs for Celina. Kerr, Williams, Cassie Freeman and Kylee Bader each collected two hits. with Freeman scoring twice as a courtesy runner before pinch-hitting for Puschel later in the game.
Sarah Moeder joined Heitkamp in collecting doubles on the day.
Celina continues its early-season Grand Lake circuit of games as the Bulldogs host Minster at Bill Feth Diamond today. St. Henry stays at the Wally Post Athletic Complex today to host the Fairlawn Jets.