Thursday, March 31st, 2011
Preston takes center stage in 'Willy Wonka'
By Janie Southard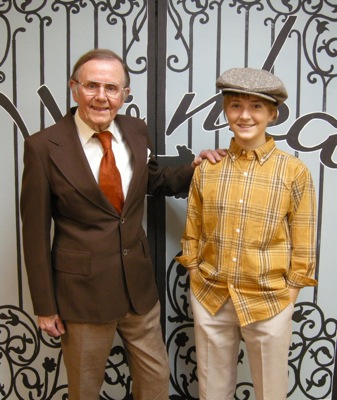 Montezuma resident Bud Preston is a guy on the go with a smile, a song and an assortment of performances to his credit.
This weekend he will play Grandpa Joe in the Crescent Players' production of "Willy Wonka." The show runs for two weekends in New Bremen.
"I was glad to get that part. It's a great show with a great moral: The good guys win. You don't find that a lot any more in movies," Preston said. "And the play is so funny."
The Celina High School 1946 grad has a number of other credits in his arsenal: former teacher and principal at Celina West Elementary School, a charter member of the Grand Lake Sound Waves barbershop quartet, a retired U.S. Air Force lieutenant colonel and a member of the seniors' tennis circuit where he's won several tournaments.
His acting gigs came about in the past three years, beginning with a role in "Bye, Bye Birdie" produced by the Grand Lake Theatrix Community Theatre Association (GLTX) in St. Marys.
"In 2008 Vicki (Shurelds, executive director of GLTX) called me hoping to arrange some barbershop for 'Bye, Bye Birdie.' Well, I talked to the other (Sound Waves) and they weren't interested; but I thought it sounded like fun - and it was," Preston said. "I guess that got me started in community theater musicals."
He had one scene where he and three others were leaning on a bar singing.
"I was the oldest person in the production, but, heavens, I'm the oldest person everywhere," joked the native Celina farm boy.
His next part came in "Annie" as Franklin D. Roosevelt. "Boy, that was easy. I rode around in a wheelchair and didn't have to learn all that blocking because I had a guy pushing me around. All I needed was a long cigarette holder," he said. "I really loved being in 'Annie' probably because of the children in that show. They were a lot of fun - always called me Mr. President."
Then it was "Guys and Dolls," and Preston played the part of Arvide Abernathy who has a popular solo in one scene.
"I was to be accompanied by live drums and a bass viola. The rest of the music was to be on tape. Well, the tape didn't get started on time so we stood there a while. Then I started singing a cappella. Everyone was amazed but, of course, barbershop is a cappella and I'd been singing that for years," he said.
Next was a performance of "Baby" by the Crescent Players. Preston had a small part but didn't make it on stage.
"One week before the performance, I had a heart attack and then open heart surgery," he said, adding he had wonderful support from friends and family, include his wife, Mary Ann, who "got me through the whole thing."
He did attend a performance of "Baby," and the entire cast gathered on stage and serenaded him before the curtain went up.
That was one year ago, and Preston is fully recovered, feels good, plays in a tennis league every Monday in Lima and is ready to take the stage again.

If you go:
What: "Willy Wonka"
When: Friday, Saturday, Sunday and April 8, 9 and 10. Friday and Saturday performances are at 7 p.m., Sundays at 2 p.m.
Where: James F. Dicke Auditorium, 901 E. Monroe St., New Bremen
Cost: Presale, $10 adults; $8, children and senior citizens. Additional $2 at the door. For groups of 20 or more, $7 each.
For more info: crescentplayers.blogspot.com