Friday, April 1st, 2011
Official floats idea to build boat that harvests algae
By William Kincaid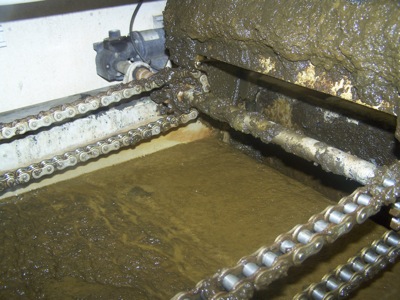 CELINA - A city official wants to build a $500,000 algae-collecting boat to clean up the Celina side of Grand Lake.
Celina Planning and Community Development Director Kent Bryan said such a boat would collect both algae and phosphorus by using dissolved air flotation (DAF) technology.
DAF uses tiny bubbles to cause algae to float to the surface of the water. The algae then would be skimmed and stored on the 40-by-70-foot harvesting boat.
"It's possible," city water treatment plant supervisor Mike Sudman said. "We did a pilot test on the DAF system at the water plant two years ago and that worked, and that's basically the concept of the boat."
By weight, 3 percent of algae is phosphorous, Bryan said. Therefore, if 100 pounds of algae were removed, three pounds of phosphorus also would be taken out of the lake, he said.
Based on the idea of running the boat 16 hours a day, nine months a year from March to November, Bryan estimates 50 tons of algae could be removed a day.
"It's not that complicated when you really get down to it," he said.
Once the boat would return to shore, collected algae would be pumped through a pipe to the Celina Renewable Energy Center - 60 acres of land on Meyer Road that the city is in the process of purchasing.
Bryan is currently working on a proposal to sell algae to DP&L, which according to a press release is soliciting offers to purchase biofuels for two of its generating stations. Bryan said the algae could be mixed with coal.
Likewise, Optional Energy Partners of Michigan, which plans to construct a manure/algae digester at the Celina Renewable Energy Center, may extract phosphorus from the algae to create a sellable, organic product.
Bryan said the next step is to seek input from city council members and eventually build the boat. He already has talked with two manufacturers that could sell the city main sections for the boat.
City employees would install electrical, piping and pumping systems, he said. Once orders are placed, the boat could be completed in six months.
How will the boat be financed?
Bryan said there are federal advanced energy grants.
Also, the city is getting $1.7 million in one-time payments from Solar Vision of Westerville and Optional Energy Partners for using city land to construct renewable energy operations at the Meyer Road site. That money is earmarked for the city's land purchase and infrastructure work, but Bryan said there may be money left to direct toward the boat.
Bryan also is researching how to patent the boat. He envisions Celina one day manufacturing the boats for others who are also having problems with phosphorous and algae.
"It's a very intriguing project," Sudman said.
Asked how many boats it would take to make a large impact on the lake, Sudman said he was unsure.
"Until one of them is up and running, you're not going to know that," he said.
Bryan said the algae boat could be one of many, long-term solutions to improving the lake's water quality; one project is not enough.