Tuesday, April 5th, 2011
Fire truck buy hangs in the air
By William Kincaid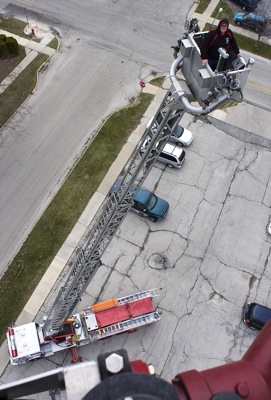 CELINA - Purchasing new fire vehicles is back on the table for city council.
Council members on Monday agreed to establish a fire vehicle capital fund and discussed taking a vote on a purchase at the next council meeting April 11.
Council tabled an ordinance to buy two fire vehicles from Sutphen Fire Trucks of Dublin for $1.38 million earlier this year due to budget concerns. Celina Planning and Community Development Director Kent Bryan, who is temporarily acting as safety service director, said the administration would draft a new ordinance for the purchase.
Fire chief Doug Wolters - who pointed out the department's biggest needs are an aerial truck and a grass truck - suggested council purchase a $150,000 grass truck and make a down payment on a 2010 demonstration model aerial truck. The truck, equipped with a 100-foot ladder, would cost $908,735.
The city could save $120,000 by purchasing the aerial truck now instead of waiting until next year, Wolters said.
The $463,967 pumper tanker, which was part of the original plan, could be purchased later, he said.
Councilwoman Angie King said the city doesn't have the money, to which councilman Jeff Larmore told her to take it easy and allow for discussion. Larmore said the city should consider whether to make a good business decision by taking advantage of possible savings.
King suggested the city purchase a grass truck now and further discuss purchasing an aerial truck.
"The aerial is what has the savings," Larmore said.
King said there are so many uncertainties, such as a public initiative to overturn the recent income tax increase, that make her uncomfortable with the purchase.
Councilman Mike Sovinski said money is going to be spent on fire trucks, whether through maintenance or capital purchases.
"We're talking about running the city," councilman Bill Sell said, adding the fire department is just as important as an upcoming $850,000 sewer project on the west side of town.
Wolters pointed out the city recently spent $1,000 to replace the shifter on the 34-year-old aerial truck.
"We're putting money into a dead horse," he said.
It's scary to think of a major breakdown occurring during a fire, Larmore said. If the truck became unusable, insurance rates for some industries would go up, Wolters said.
Larmore estimated the annual payment of the 2010 aerial truck, with a 10-year-lease, at $60,000.
Mayor Sharon LaRue asked council members to consider the possibility of an initiative passing - taking away $1.5 million a year - in addition to other cuts proposed by the state. She questioned if the city could make a $60,000 payment each year for 10 years under such circumstances.
Council also discussed pending legislation that would transfer $400,000 from the general fund to the fire department's truck account. That account was emptied last year when city council used the money to balance the budget.
Council members briefly considered allowing the fund to finance other emergency response vehicles, such as police cruisers. However, King said the fund should be specific to fire vehicles, as they are much more costly.
According to Ohio law, taxing authorities are allowed to establish capital project funds for the purpose of accumulating resources for the acquisition, construction or improvement of fixed assets of the subdivision. The money cannot be accumulated in the fund for more than 10 years. Failure to spend the money for its intended purpose would force the city to transfer it back to the general fund.
Council members on Monday night set the time limit at 10 years and set the maximum contribution at $2 million. Council also debated semantics, as they do not want to be forced to put $100,000 in the fund each year if it is not available.
"We just don't want to be locked into this," Scott said.
Council plans to vote on the legislation at Monday's meeting.