Saturday, April 9th, 2011
DeMange Band ends 52-year run
By Margie Wuebker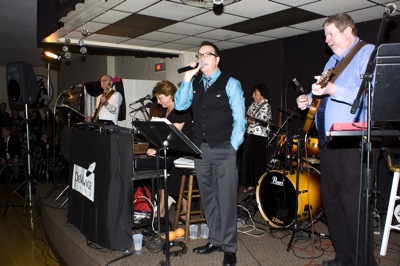 MINSTER - The DeMange Band ended its 52-year run in memorable fashion as guests at the annual Minster Civic Association came onto the dance floor and sang "God Bless America."
"It is something I will never forget," band member Nancy (DeMange) Niekamp said of the late March event. "We've been transitioning toward retirement by booking fewer engagements the last year or so; but knowing this was our last performance didn't make walking away any easier. There were lots of tears."
From impromptu Sunday afternoon concerts at home to reception halls throughout Mercer, Auglaize, Shelby and Darke counties, the 14 children of Versailles-area residents Paul and Helen DeMange brought a wealth of music to the area over the years.
At one time there were two bands, but family members slowly left the stage during the ensuing years in the wake of family and work commitments. Three siblings - Betty (DeMange) Poeppelman, Niekamp and Ken DeMange - participated in the final performance along with bandmates Dan Lennartz, Jim Blue and Ed Larson.
"Getting subs has become difficult if not next to impossible," Niekamp said. "We used to have four or five for each position; now it's hard to get anybody. There are not many bands that play the kind of music we do."
The 14 siblings, who now range in age from 48 to 70, learned to appreciate music at an early age. It became as much a part of life as working on the family farm, attending school in nearby Versailles and going to Sunday morning Masses.
Matriarch Helen DeMange, who died a year ago, once told a newspaper reporter her sister and brother-in-law (Christina and Alfred Carity) would come over on Sundays for a family concert. Paul DeMange pulled out his trusty harmonica and Alfred Carity strummed the banjo. There never was a shortage of piano players because all the youngsters could play by ear.
The children learned the golden oldies - "Tennessee Waltz," "Beautiful Ohio," "Could I Have This Dance?" "Let Me Call You Sweetheart," "You Are My Sunshine" and "Cruising Down the River" - between glasses of Kool-Aid and handfuls of popcorn.
In 1959, the older DeMange children - Carl, Betty (Poeppelman), Nancy (Niekamp), Margie (Bruey), Joan and Ed - decided to form their own band. They played once a month at the former St. Joe Schoolhouse near Fort Recovery in the days before microphones and amplifiers. The accordion gradually gave way to a keyboard.
The younger siblings - Marilyn (Bensman), Ernie Lee, Roger, Rick, Elaine (Marshall), Theresa (Hemmelgarn) and Ken - formed The Imperials in the late 1960s and early 1970s. They disbanded after 10 years with Ken moving to join the older set, and Roger becoming part of Free Rider.
The DeMange Band introduced new twists to old favorites like the "Wedding March." Forming a long line with the bride and groom, members of the wedding party and a host of invited guests, Poeppelman led participants through the hall, out a side door and around the parking lot before returning for a welcome slow dance.
"We took a trip through the parking lot when the weather was nice," she recalled with a chuckle. "Otherwise we stayed in the hall, but that was not nearly as much fun."
Weddings have changed with the passing decades. They used to be all-day affairs with dinner, supper and occasionally night lunch. The DeManges played from 2 to 5 p.m. before heading home to change clothes, do the milking and feed the livestock. After bathing and eating, they headed back to the reception hall to provide dance music from 8 p.m. to midnight. They quickly point out the schedule included at least two hours for loading/unloading equipment and setting up the bandstand. Now ceremonies take place in mid-afternoon with dancing from 7:30 to 11:30 p.m.
"We charged $60 for weddings in the early years and shared everything equally," Niekamp said. "Sometimes our take was $5 or $6 depending on how many musicians were on stage that night. It never was about the money or we would have bowed out years ago. The truth is we enjoyed ourselves as much as the crowd. If they had a good time; we had a great time."
Weather conditions affected several performances over the years. Heavy snow and blowing winds forced postponement of a wedding reception when neither guests nor band members could make it to the Russia Community Center. Another time a power failure knocked out speakers and lights as the DeManges played at the Maria Stein American Legion. Band members went from table to table playing so guests could hear the music.
Youngsters often sat at the edge of the stage watching the siblings perform. Steve Siefring, who later became a drummer and played with the band, admits to being one of those kids.
As Poeppelman and Niekamp looked out over the appreciative Minster crowd, they both recalled the words their mother spoke decades ago: "Practice your music and one day you might have a band."
In 2004, three generations of DeManges appeared on stage as a special feature at the Maria Stein Country Fest. A total of 55 adults and children presented two shows featuring tunes from all genres and eras with Helen DeMange smiling proudly in the audience.
"She predicted we would have a band," Poeppelman said. "But I don't think she imagined how long it would last."