Monday, April 11th, 2011
To the point
Veterinarian uses acupuncture on animals large and small
By Shelley Grieshop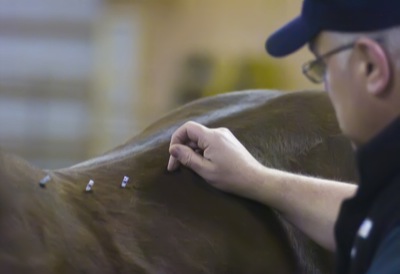 ROCKFORD - Dr. Ron Anders' knee-high, rubber boots kick up dirt as he shuffles across the barn floor toward his patient.
He stops within inches of the 1,300-pound horse and for a moment the two are locked in a deep stare.
"How we doin' Gideon?" he asks the towering gelding.
Anders, a licensed veterinarian and owner of the County Animal Clinic in Coldwater, is at the Henkle farm along U.S. 33 to perform acupuncture and chiropractic services on the ailing horse. His method of treatment strays from the traditional use of antibiotics and pain medications.
Gideon's owner, Terra Henkle, wouldn't have it any other way.
"Instead of using meds to mask the problem, Dr. Anders tries to figure out why it's happening," she said. "I choose this method because I know it's going to give me an edge. When he (Gideon) feels better, he performs better."
The animal's well being is crucial to the family. Valued at $25,000, the 12-year-old quarter horse competes nationally in barrel races and other contests where prizes reach into the thousands of dollars, she said.
Terra and her husband, Stacey, have eight horses and have used acupuncture treatments on them for 10 years for various health issues. Recently, Gideon began walking a little stiff and exhibiting a minor breathing problem. Terra fears a problem with his heart and lungs.
After calming the horse with a gentle massage, Anders assesses the equine's health by rubbing a small, plastic needle container across its chestnut-colored coat. The horse is visibly agitated when touched in certain areas.
"His neck is out," Anders announces after Gideon repeatedly jerks his head to one side.
The horse's gums have a lavender color, not a healthy pink, so a liver problem also is suspected. The animal's saliva is sticky, and Anders decides the spleen and kidney also need attention.
Proper blood flow is critical to the overall health of animals and people, Anders said, adding the theory was first adopted by the Chinese hundreds of years ago. Acupuncture needles - placed in specific areas such as the ting points near a horse's hooves - improve blood and energy flow, he said.
Anders often uses a thermographic imaging camera to help identify inflamed areas prior to administering treatment. After making his initial diagnosis, he inserts about a dozen 20- to 22-gauge needles - some as long as 6 inches, into the appropriate pressure points.
He also uses injectable needles that can be filled with the animal's blood, tissue, Chinese herbs and other substances, he said.
Anders was trained in chiropractic and acupuncture techniques more than 10 years ago by top experts in the field, he said. One of those is Monty Roberts of southern California, the inspiration for the movie "The Horse Whisperer" starring Robert Redford.
A serious auto accident that damaged Anders' neck and back led him to the alternative treatment methods. Chiropractic care and acupuncture did wonders for his rehabilitation, he said.
"I figured if I could get good results, so could my patients," he said.
His clients aren't just horses. He treats dogs, cats, livestock, exotic animals and even people in Ohio, Michigan, Pennsylvania and Indiana, he said. He also is certified in homotoxicology and herbal medicines and is seeking certifications in related fields, he said.
Carol Wright of Celina has tapped acupuncture treatment for her horses for nearly seven years. Her equines compete in dressage - a form of dance - at shows around the country, she said.
Several years ago one of her horses became very ill and the medications prescribed toxified its body, she said.
"They (vets) were ready to put him down," she said.
Acupuncture had helped her dogs so she decided to try it on her horse. The animal recovered and is now in its mid-20s, she said.
"Less drugs is always best," she said.
Back in the horse barn, Gideon's breathing begins to relax, his eyes get droopy and he periodically yawns as the process continues for more than an hour.
Terra is pleased with the almost immediate results and the new, calmed state of her horse.
"He's like my kid, I worry about him," she said.