Saturday, April 16th, 2011
Bulldogs stay perfect in WBL
Chittum a cancer survivor
By Ryan Hines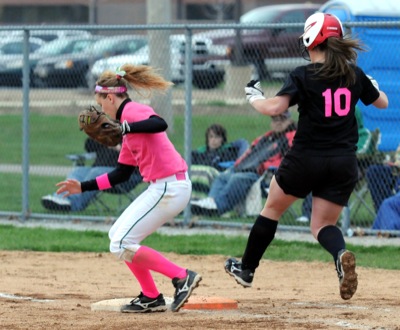 WAPAKONETA - A four-run offensive outburst in the second inning and a strong pitching performance by Katie Kerr led Celina to a 6-2 victory over Wapakoneta on Friday in Western Buckeye League softball action.
The Bulldogs (7-5, 3-0 WBL) maintain their spot on top of the WBL standings while the Redskins (7-1, 2-1 WBL) lose for the first time of the spring. Van Wert (7-1, 2-0 WBL) and Shawnee (10-0, 2-0 WBL) are the only other unbeaten teams in league play.
"This was a huge win for us against an awesome team, but it is still very early in the WBL," said Celina's head coach Nicole Driggs. "I think that all of the coaches in the WBL named Wapakoneta as a title contender and we just feel happy with our status right now. We need to continue to keep our bats going to continue success."
Celina fell behind 1-0 when a pair of Bulldogs' errors led to a Wapakoneta run in the bottom of the first inning.
The Bulldogs didn't trail for long as Celina scored four times in the second frame to take the lead for good.
Kaity Kuhn got Celina's rally started with a single and Kassandra Williams walked to put two runners on base with no outs. Amanda Hoying and Christine Thobe followed with back-to-back RBI singles and Celina charged in front 2-1. Abbey Zacharias drove home Celina's third run of the inning with a fielder's choice while Kylee Bader's popup in foul territory gave the speedy Thobe enough time to sprint home for the fourth run.
"I thought that it was important to get off to a good start because Wapakoneta is a good team that is aggressive at the plate and able to score a lot of runs," said Driggs. "I think that scoring those runs early allowed us to get into our rhythm and relax."
Wapakoneta pulled to within two runs after scoring once in the third inning and Celina's bats went silent for three innings before the Bulldogs were able to tack on a pair of insurance runs in the sixth inning. Leah Rose led off with a triple and scored one batter later on Hillary Heiby's RBI single. Heiby later scored with the help of a Williams single and a Wapakoneta error.
Following Wapak's run in the third inning, Kerr was in complete control on the mound for Celina over the final four innings. Kerr did not allow a hit in the last four innings against a potent Wapakoneta offense that was averaging 10 runs per game entering Friday's game.
"She kept her composure early and let her defense make plays behind her. I think that once we started scoring some runs it gave her confidence to pitch her game," said Driggs.
"She's a great pitcher and she focused on getting ahead early in the count," said Wapakoneta's head coach Bill Sammons. "We have to learn to bounce back and hit those type of pitchers. We didn't hit the way that we are capable of hitting. We aren't going to be able to score 10 runs every game and we have to be able to understand that and make adjustments."
The Bulldogs had 10 hits against Wapakoneta's Carli Sammons, who was pitching for injured Redskins' ace Emily Whetstone (sore shoulder).
Celina is back in action again on Saturday with a pair of games at the Lincolnview quadrangular.

Chittum a cancer survivor:
The Celina and Wapakoneta softball teams played their second annual "Pink Game" on Friday with money donations going to the American Cancer Society.
Both teams replaced their usual game jerseys with uniforms of pink and black in an effort to raise awareness and money for cancer research. Before each inning, announcements were made to honor family and friends of the players in the game who are survivors of or currently fighting cancer.
2010 Celina graduate and current Bulldogs' jayvee coach Cassandra Chittum is a cancer survivor that knows the trials and tribulations of battling the dreaded disease.
"For over two years I was suffering from back pain and several doctors couldn't figure out the reason for the intense pain. I had x-rays and blood tests, but no one could find the cause of the back pain. I could barely move because of the pain and it was so frustrating to not know the reason why. Then I went to a spine specialist and during an MRI, a tumor (3 1/2 inches by two inches) was found on my spine just three days before I was supposed to go to college (University of Cincinnati)," said Chittum, who was diagnosed with
non-Hodgkin (large B cell) lymphoma in her upper spine. "Because of the location, I couldn't have surgery and they didn't want to do radiation so I started chemotherapy soon thereafter. I had six treatments and have been cancer free since January."
During the chemotherapy, Chittum lost all of her hair and developed mouth sores along with extreme fatigue.
"The chemo really affects your immune system and basically kept me at home from September to January. I had to go to the hospital several times because my immune system was hit so hard," said Chittum, who says she feels better now than she has in years. "I was relieved that they finally found the cause of the pain, but also bummed because I had to put off college for a year because of the cancer. I will be able to go to college in the fall though."
Celina's softball coach Nicole Driggs says Chittum is an inspiration to her team.
"When we heard about the cancer and the fact that she was going to have to hold off on college, we felt terrible for her but also felt it was a great opportunity to add her to our coaching staff and it has worked out great. She's an inspiration to all of us, especially the girls on our team," said Driggs. "She has been working out with the girls, trying to build up strength and our players have no excuses to not work hard when you see a girl recovering from cancer putting in the hard work. Cassandra has had a great attitude through all of it and we are so proud of her."