Monday, April 18th, 2011
Minster sweeps its own invite
By Gary R. Rasberry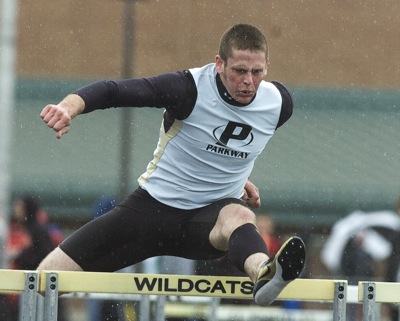 MINSTER - Saturday was nearly the midway point of the track and field season, and competition was strong as usual at the annual Minster Memorial.
The host Wildcats swept the team titles. Minster's boys cruised to a win while the Lady Wildcats slipped past Midwest Athletic Conference rival Versailles for the team title with Marion Local taking third place.
The Minster boys were paced by Sam Phlipot, who came within 0.05 seconds of breaking the meet record in the 100 meters (10.95 seconds), before winning the 200 meters in 22.71 seconds, nearly a second ahead of Lehman's Justin Stewart. Phlipot also ran a leg of the Wildcats' winning 800 relay. Also picking up individual wins for Minster were Ryan Will in the shot put (54-4 1/2) and Derek Collins in the long jump (21-4 1/2).
"Pretty good day for the boys," said Minster's boys' coach Larry Topp. "Had some good individuals from our shot putters and also with Sam running his usual. Ryan Will winning the shot was a big deal for us. We had some young sprinters come through for us too."
Other area top finishes came from Parkway's Hank Bevington, who battled St. Marys' Devon Fitzgerald and Joe Haggard of Delphos St. John's down the stretch to win the 110 hurdles. Fitzgerald later came away with the victory in the 300 hurdles while Roughriders' teammate Paul Helmer took first in the pole vault, clearing 12-3.
New Bremen's Dillon Webster was four seconds ahead of the field while winning the 800 meters.
On the girls' side, Minster won just two races, but got plenty of depth in the finals to pick up the team win by a margin of 11 points. Averie Bornhorst picked up the only individual win for Minster by capturing the 3,200 meters. The other victory for the Wildcats came in the 3200-meter relay.
Minster girls' track coach Jessie Magoto was happy with her team's performance, but knows that there is a lot to improve upon before the MAC meet in early May.
"It was exciting to see the competition," said Magoto. "We had some highs and lows. We had some strong points - Averie winning the (3,200) and going 2-3 in the 800. The relays held up pretty well. But, wow! It shows what work we have (to do). We have three weeks here of key training time. It's time to get focused and get moving."
St. Marys' throwing standout Mekayla Breland continued her dominant season, winning by a margin of nearly 7 1/2 feet in the shot put and nearly 15 feet in the discus while sweeping the throwing events.
New Bremen's Kyleigh Suchland brought home gold in the long jump while Marion Local's Olivia Hemmelgarn was the only pole vaulter to clear 10 feet on the day, winning with an effort of 10-3.