Monday, April 25th, 2011
Wenning rushes for two scores at Ball State's spring game
By Gary R. Rasberry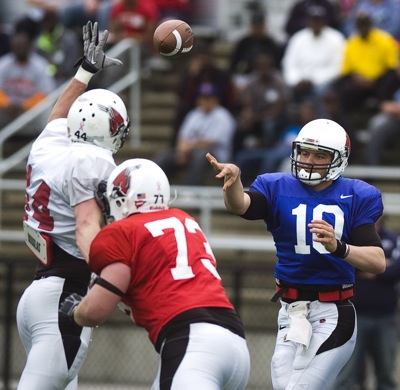 MUNCIE, Ind. - Ball State wrapped up its spring football practices with its annual spring game scrimmage at Scheumann Stadium on Saturday.
Ball State football fans were able to take advantage of good weather and see the new-look Cardinals under first-year head coach Pete Lembo.
For sophomore quarterback and Coldwater High School graduate Keith Wenning, it was a chance to try and reclaim the starting spot he earned last season.
Lembo, who produced winning teams at Lehigh and Elon before being hired in Muncie during the offseason, installed a new offensive scheme with multiple formations, and opened a competition for the the starting quarterback spot between Wenning and Kelly Page, who started the first two games last season.
The winner may not have been decided on Saturday after the red-clad offense beat the white-clad defense 51-38, but Wenning certainly showed he wanted to keep the starting job that he earned the last 10 games of 2010.
One noticeable change for Wenning was his improved mobility. Last season, Wenning rushed for a negative three yards and two touchdowns on 32 carries but the former Cavaliers' star had success rushing the ball on Saturday.
Both of Ball State's scoring plays during Wenning's time on the field came via runs by the QB. Wenning scored on runs of eight and three yards and added several runs that turned into first downs, which counted as a point each in the scoring system used during the scrimmage. Several of Wenning's runs were stopped when he was touched by a defensive player since the quarterbacks were wearing blue "no-tackle" jerseys.
"This winter, it was one of my goals to drop my weight and (improve) my agility," said Wenning. "Over the offseason I lost 25 pounds, actually. I could tell, with my speed and quickness, it helped out a lot."
Wenning and Page both had some solid passing efforts as well. Page connected with former Crestview standout Briggs Orsbon on a 41-yard score, and Wenning hit Orsbon for a 49-yard pass that set up one of Wenning's TD runs.
Wenning seemed comfortable in the new offensive set, which had him both under center and in a shotgun, a spot he was comfortable with during his years at Coldwater working the Cav-Gun offense.
"It is similar to (Coldwater's) offense, but there's still a lot of things I need to learn and get better with," said Wenning. "Just the procedure and that kind of stuff I've got to get comfortable with and run the offense better.
"Just like anything else, it takes a little while to pick it up at first. Reading the defense, that was the big change."
Lembo did not commit to who would be the starting quarterback come Sept. 3 when the Cardinals face Indiana at Lucas Oil Stadium in Indianapolis, but had praise for both Wenning and Page during his post-game comments.
"Both the quarterbacks did some good things and they both struggled at times," Lembo said. "We are not operating as fast as I would like to yet. It is up to them to get us moving a little bit faster. We were a little bit inconsistent at times, but they are both terrific kids and I feel really good that they are going to continue to work hard at getting better."
Wenning is happy to compete with Page for the job.
"Me and Kelly are good friends. We love competing against each other," said Wenning. "But we're not going to stop helping each other. We still help each other day in and day out."
Wenning knows that all he can do is work hard to reclaim the starting job he had at the end of last season.
"I believe in my ability," said Wenning. "Whoever the coaches decide, it's their decision. I'm confident if they pick me, I can do it."